EDITORYAL - EDCA tiket sa AFP Modernization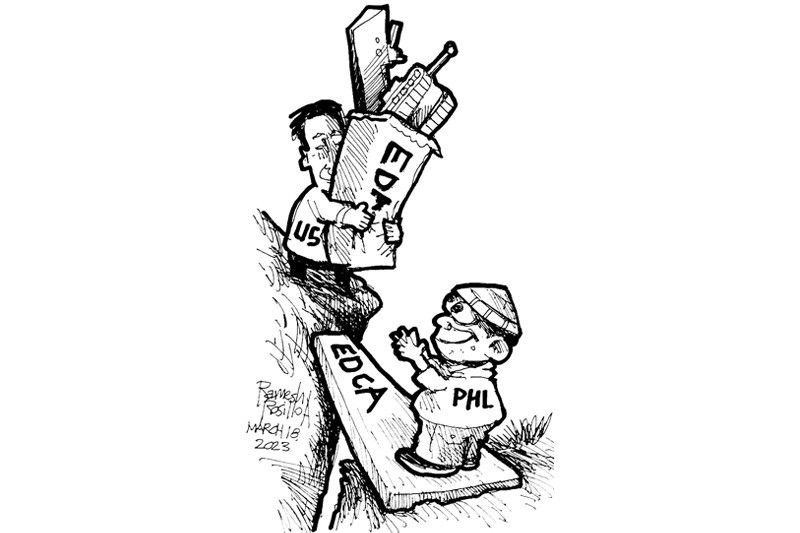 Kung duna may paabuton aron mapadali nga makab-ot sa Armed Forces of the Philippines ang gitinguha niining minimum-credible defense, kining subling paglig-on sa relasyon sa Pilipinas ug sa Amerika mao ang tukmang panahon.
Sud sa pipila ka dekada gitinguha sa AFP makabaton og modernong mga gamit apan wala kini tagda sa mga magbabalaod.
Sa panahon lang nilang kanhi presidente Corazon Aquino ug sa iyang anak kanhi presidente Benigno "P.Noy" Aquino nakatilaw ang AFP og modernisasyon.
Unang nagsugod sa pagpalit og mga gamit para sa AFP ang inahang Aquino. Kini bisan mao pay pagsugod pagbangon sa nasud human sa EDSA Revolution ug talandugon pa ang liderato sa militar adtong panahona.
Pinaagi niya, napalit ang mga Agusta S-211 jets sa Italy, Scorpion Light tanks ug Simba APCs gikan sa UK, mga second hand nga helicopters, patrol boats para sa Navy.
Sa panahon ni kanhi presidente Fidel V. Ramos, dyutay ra siya og natampo para sa AFP apan siya maoy nipirma sa AFP Modernization Law nga wala sab mahatagi og pundo.
Sa pagpuli ni kanhi presidente Joseph Estrada wala sad kaayoy napalit para sa AFP.
Sa napulo ka tuig nga paglingkod ni kanhi presidente Gloria Macapagal Arroyo gamay ra siya'g natampo apan nakadawat kini og donasyon nga duha ka patrol boats gikan sa Hong Kong dihang ang UK mibiya na sa kanhi kolonya niini dihang gibawi na kini sa China.
Sa paglingkod ni P.Noy, giamendahan niya ang AFP Modernization Law ug diha pa nakabuwelo ang modernisasyon, naumol anang panahon ang mga Horizon Programs 2028 nga hangtud karon maoy gitamdan sa halos tanang gipamalit sa AFP.
Sa panahon na ni kanhi presidente Duterte nangahuman ug naabot dinhi sa Pilipinas ang mga gipamalit sa panahon ni P.Noy.
Karon nga si Presidente Ferdinand Marcos Jr. subling mibukas sa pultahan sa nasud para sa US kinahanglang gamiton kini nga kahigayonan.
Dili gyud malipay niini ang China, apan kaniadto pa man daan na kining hulga sa seguridad sa Pilipinas diha sa West Philippine Sea.
Ang US adunay mga Excess Defense Articles (EDA) nga sagad ilang ihatag sa mga kaalyadong mga nasud sama sa Pilipinas. Mahimong gamiton kining Enhanced Defense Cooperation Agreement (EDCA) aron himuong prayoridad sa EDA sa US ang Pilipinas.