EDITORYAL - Pagkahaom sa mga pulong ni Rizal
October 8, 2022 | 12:00am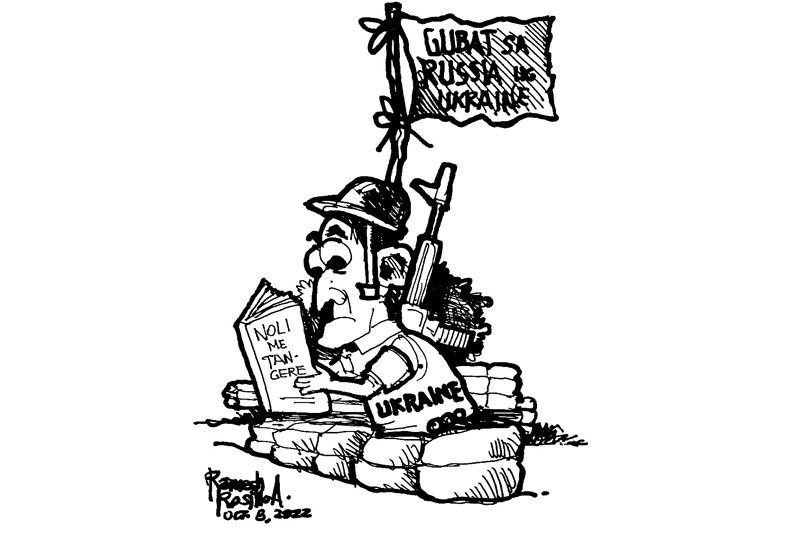 Usa ka dakong garbo sa Pilipinas ang pagkutlo sa mga pulong sa Nasudnong Bayani nga si Dr. Jose Rizal sa nasud nga kasamtangang naa sa kalisdanan ug padayong nakigbisog alang sa ilang kaugalingnan ug kagawasan gikan sa nangatakeng mas gamhanang nasud.
Walay laing gipasabot niini mao ang Ministry of Defense sa nasud nga Ukraine nga mi-Tweet sa usa ka linya ni Crisostomo Ibarra, ang karakter sa nabantog nga libro ni Rizal nga "Noli Me Tangere."
Ang mga pulong mao kini: "I don't see why I should bow my head when I could hold it high, or place it in the hands of my enemies when I can defeat them." Mabasa kini sa gikan sa maong libro nga nahubad na sab sa pinulongang Englis.
Haom kaayo ang maong mga linya, si Crisostomo sa Noli Me Tangere mao ang representasyon sa mga Pilipino nga ubos sa panaugdaog sa mananakop nga mga Espanyol kaniadto.
Ang mga Ukrainians padayong nakigbisog batok sa nasud sa Russia nga walay pananghid nga miatake niadtong Pebrero ning tuiga ug giilog ug giangkon nga ila ang pipila ka probinsya sa ilang nasud.
Sa tapad sa armas, gidaghanon sa pwersa ug impluwensiya, pwerteng layoa ra sa Ukraine batok sa Russia.
Apan sama sa mga Pilipino kaniadto sa panahon sa Katsila, ang Ukraine nasakop sab sa Union Soviet Socialist Republics of Russia (USSR) sud sa pipila ka dekada.
Nakalingkawas lang sila sa talikala sa komunismo niadtong 1991 sa dihang hinayhinay nga nabungkag ang USSR. Apan bisan sa pagkabungkag sa Soviet, nagpabilin ang pagpanghawod ug pagpanghilabot sa Russia sa kaniadto sakop sa ilang USSR, usa niini ang Ukraine.
Sayo sa tuig 2000 nagpadungog-dungog ang Ukraine nga hingpit na niining talikdan ug putlon ang kalambigitan niini sa Russia ug hinayhinay dawaton ang West.
Wala kini ikahimuot sa Russia nga pwerteng mangabubho ug nasilag batok sa West. Sa kahadlok nga ugma-damlag mahimong full-pledge member ang Ukraine sa North Atlantic Treaty Organization, gisulsolan niini ang mga Russian-speaking Ukrainians sa sidlakan ug amihanang bahin sa Ukraine aron magrebelde ug manawagan nga mobuwag sa Ukraine.
Sama sa nahitabo kang Rizal ug sa mga Pilipino kaniadto nga gibudhian ra sab sa mga hakog sa gahum nga mga Pilipino ang mga Ukrainians (Russian-speaking) sa Donbass ug Luhansk regions.