EDITORYAL - West Philippine Sea dakong hagit sa sunod nga administrasyon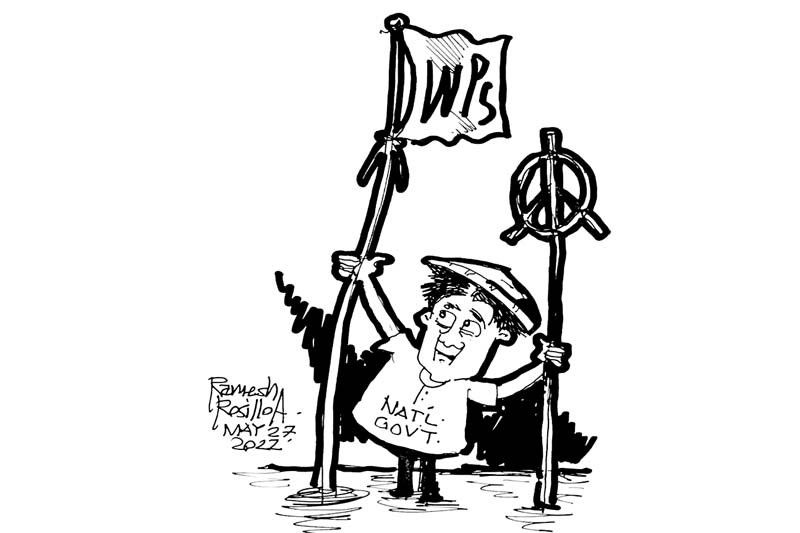 Parehas og polisiya ang umaabot nga administrasyong Marcos sa polisiya ni Presidente Rodrigo Duterte kabahin sa sitwasyon sa West Philippine Sea. May punto si president-elect Ferdinand Marcos Jr. dili kinahanglang makigiyera kondili ipadayon ang pakig-diyalogo sa China.
Apan dili maayong sundon ni Marcos ang tonada ni Duterte kinsa namahayag kaniadto nga okupado na sa China ang WPS ug wala nay mahimo pa ang Pilipinas tungod kay dili makasugakod og giyera ang mga Pilipino.
Gisigehan sab og balik-balik ni Duterte ang posibilidad nga magka-World War III kun ipamugos sa Pilipinas ang katungod niini nga kun ipamugos niini ang resulta sa 2016 Arbitral Ruling nga diin gipaboran sa korte ang Pilipinas kaysa China.
Ang mga sama niini nga pamahayag makapahuyang sa posisyon sa Pilipinas ug makapadismaya sa mga tawo. Dili man giyera ang punto o gusto sa mga tawo, walay gusto niana ug nasayod ang tanang mga Pilipino nga bisan luwaan lang sa kapin bilyones nga mga Chinese ang Pilipinas malumos ang mga Pilipino.
Ang buot lang nga dili mogawas nga nagpaitoy-itoy ang Pilipinas sa higanteng silingan. Nga kinahanglang magpadayon ang pagpangisda, eksplorasyon, survey ug mga siyentipikong panuki-duki sa WPS sa mga Pilipino nga walay pagbabag sa China. Ang gipangayo lang sa mga Pilipino gikan sa gobiyerno nga mohimo og mga lakang aron respetuhon sa China ang soberiniya sa Pilipinas sa maong mga lugar sa bisan unsang pamaagi basta dili sa giyera.
Usa kini ka dakong hagit para sa mosunod nga presidente sa nasud, kun unsaon pagmentinar sa maayong relasyon niini sa China nga dili kinahangolang isakripisyo ang katungod sa Pilipinas diha sa WPS.
Mahimong modangop si Marcos sa ASEAN aron mas mokusog ang tingog niini, total, bisan ang Vietnam migamit nga basihan sa 2016 Arbitral Ruling sa Pilipinas sa pag-insister sab sa ilang katungod diha sa giangkon nilang teritoryo sa South China Sea nga giilog sab sa China.
Apan samtang kini trabaho sa Department of Foreign Affairs, dili sab unta talikdan o pasagdan sa bag-ong administrasyon ang padayong modernisasyon sa Armed Forces of the Philippines nga nasugdan gikan pa sa panahon ni kanhi presidente Benigno "PNoy" Aquino nga gipadayon sab ni Duterte.