EDITORYAL - Kalidad sa edukasyon karon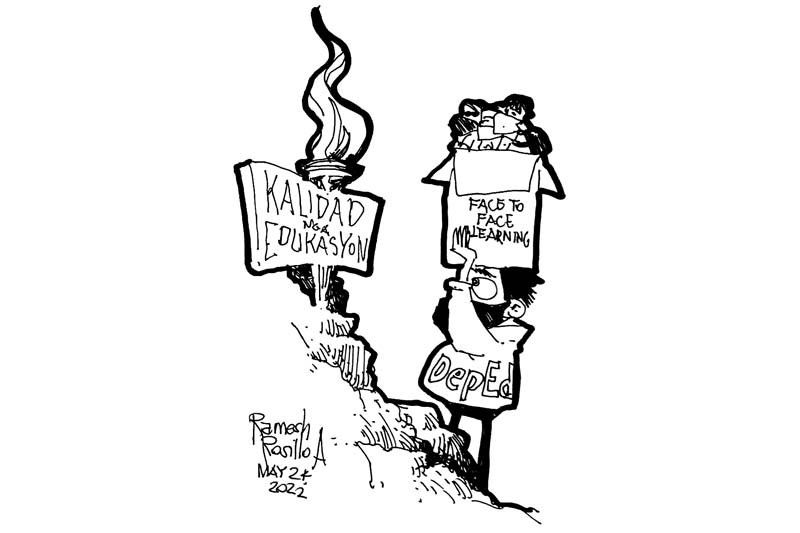 Gikinahanglan na gyung ibalik ang face to face classes sa mga tunghaan dinhi sa nasud, karon nga maisip na nga protektado na ang kiunabag-an sa populasyon gikan sa pandemiya sa Covid-19.
Kini tungod kay kun magpadayon kini nga modular, online classes, masakripisyo og maayo ang kalidad sa edukasyon sa mga tinun-an. Sila maoy makakululuoy ilabi na ang mga naa sa elementarya ug unang duha ka tuig sa high school.
Angkunon man o dili, dili tanang tinun-an ang maayo og utok sa klase, duna gyuy kinahanglang tabangan sa mga magtutudlo.
Kun kahinumdoman, niadtong gipagawas ang 2018 Programme for International Student Assessment (PISA) naa sa kataposan sa 79 ka mga nasud ang Pilipinas.
Ang maong programa naghimo og assessment sa mga 15-anyos nga mga tinun-an gikan sa 79 ka mga nasud. Ang naghimo sa maong assessment mao ang Organization for Economic Co-operation and Development (OECD).
Ika-79 ang Pilipinas sa pagbasa sa average nga 340 gikan sa OECD average nga 487. Ang pagbasa maoy gitutokan sa PISA sa tuig 2019.
Nasuta sab nga ubos sab ang mga bata sa mathematics ug science sa 353 points ug 357 points gikan sa 489 OECD average sa maong mga kategoriya.
Gitan-aw kun kaning mga tinun-an makamaong mobasa, nakasabot sa ilang gibasa, makamao unsaon paggamit ang mga pulong o leksyon, mo-evaluate, mamalandong sa mga gibasa aron magamit nila kini sa ilang kamahoan pakigsandurot sa uban ug mapuslan kini sa katilingban.
Angay maalarma ang mga tinugyanan sa edukasyon sa Pilipinas aning resulta sa assessment tungod kay kini gihimo sa wala pa ang pandemiya kon diin naa pay face to face classes.
Unsa na kaha karon nga duha ka tuig nga walay tambong-tambong sa mga eskuylahan ang mga bata tungod sa pandemiya sa Covid-19.
Kinahanglan lang gyud nga magmatngon ang tanan, ginikanan, mga tinun-an ug ang mga otoridad sa edukasyon niining pagbalik na sa face to face classes tungod kay naa pa gihapon ang hulga sa pandemiya sa Covid-19.