EDITORYAL - Sinsero nga lider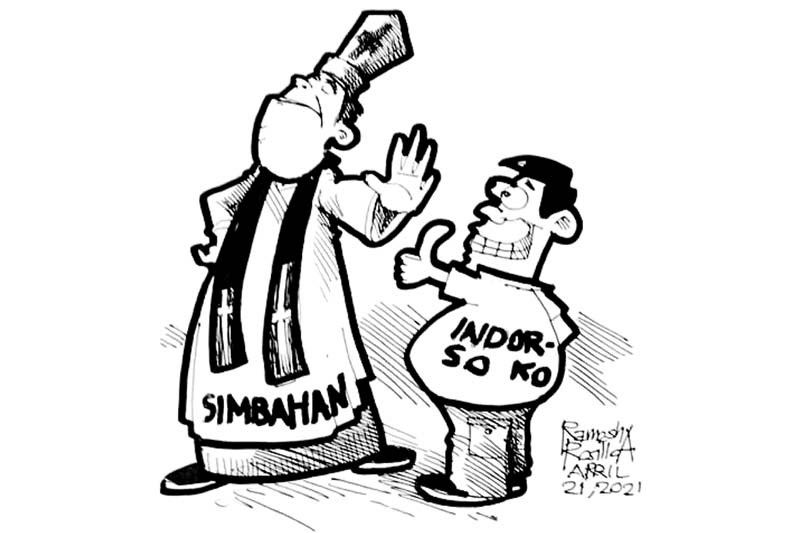 Si Cebu Archbishop Jose Palma mipadayag nga walay giendorsar nga kandidato ang Simbahan. Apan kini nanawagan sa katawhan nga kun mopili og kandidato karong umaabot nga piniliay, ang pilion kadtong sinserong moserbisyo alang sa kaayohan sa katawhang Pilipino ug sa nasud.
Kini nga pahibalo ni Palma nagpaklaro lang kung unsa gyud ang tinud-anay nga baruganan sa Simbahan nunot sa mga pasangil nga duna silay gidapigan. Kung tarungon lang gyud pagsabot sa publiko ang mga aksyon sa mga kaparian, walay opisyal nga giendorsar nga kandidato ang Catholic Bishops Conference of the Philippines (CBCP).
Nagpasabot kini nga kun duna gani mga kapariang dayag kaayong nipakita og suporta sa usa ka partikular nga kandidato, iyaha kining personal nga baruganan ug dili sa kinatibuk-ang simbahan o sa tanang kaparian.
Sama ra gihapon kini sa ubang mga indibidwal o propesyon nga dunay gustong kandidato kay ang mga pari duna man say katungod sa pagbotar usa ka Pilipino.
Sa sitwasyon karon nga ang nasud nagsige pa og bangon gikan sa epekto sa pandemiya sa COVID-19, ang nasud nagkinahanglan og lider nga dunay abilidad ug kamahoan pag-agni og daghang mga langyaw ug lokal nga investors aron mamuhonan dinhi sa nasud.
Kay mao lamang kini ang paagi aron daghang matrabahoan ang mga Pilipino. Kun daghan ang makatrabaho momenus ang gutom, molagsik ang ekonomiya ug labaw sa tanan dunay makolektang buhis.
Kun ang tawo dunay trabaho, makapalit kini sa ilang panginahanglan ug dili magagad sa ayuda sa gobiyerno nga tiyempo-tiyempo rang maabot. Ang mga dagkong investors nga mamuhonan dinhi makapabuhi sab sa mga ginagmay nga negosyo bisan diha sa mga suok-suok kay ang mga tawong dunay trabaho makapalit naman.
Dili na sab kinahanglang mo-abroad ang mga tawo kay duna may daghang kasudlang trabaho.
Kinahanglan sab makamao silang moamping aning mga negosyante pinaagi sa pagpalig-on sa political climate sa nasud. Pinaagi sab niini mas mosalig ang ubang investors ug mobubo sab og puhonan dinhi.
Bisan ang mga kabus, mga naa sa sektor sa agrikultura ug pangisda nga maoy tinubdan sa pagkaon sa nasud mabulahan aning paagiha. Kun baskog ug lig-on ang ekonomiya sa nasud mabatyagan kini bisan sa kinaubsan basta dili apilan og pangurakot.