EDITORYAL - Miaksyon ang Facebook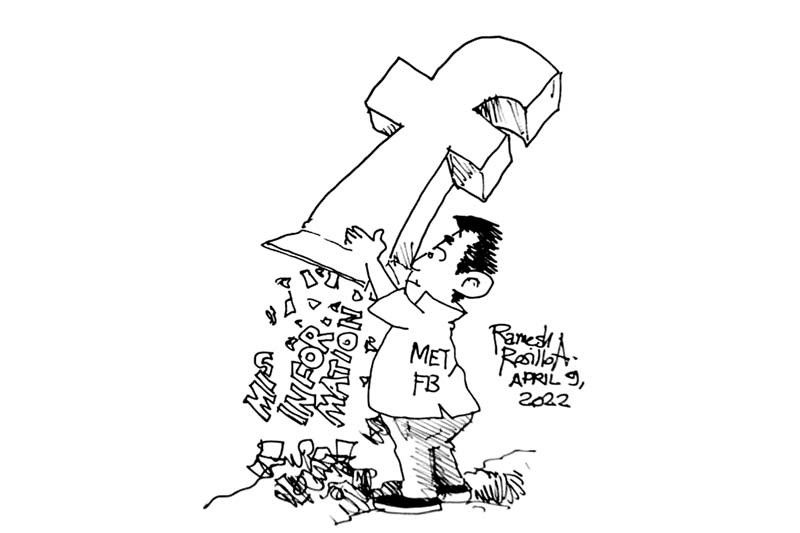 Sobra 400 ka mga Facebook accounts, pages ug groups ang gipangtangtang sa Meta, ang tag-iya sa Facebook tungod sa matud pa pagpakatap dili lang mga fake news, misinformation ug disinformation kondili pagpanghulga sa mga wesbsites ug inbidwal sa maong social media platform.
Apil sa mga gipanangtang ang mga accounts nga konektado sa New People's Army nga gikonsiderar sa Meta nga "banned organization" ug mga accounts nga nagsuporta og mga kandidato nga nagsige og pangaway ug panghulga sa mga supporters sa ubang kandidato nunot sa nagsingabot nga eleksyon.
Usa sa mga rason nganong gipanangtang kini tungod sa pandemiya nalimitahan ang mga kalihokan sa mga politiko ug sa ilang mga supporters sa paaging tradisyonal ug tanan anha nipokus sa social media.
Dunay mga kandidato ilabi na sa presidential race gustong manubag ang mga social media companies sama sa Facebook bahin aning pagpakatap og mga misinformation, fake news, disinformation ug pagpanghulga sa mga supporters.
Hagbay sa gyud unta kining gihimo, tungod kay dunay mga kandidato karon ang nakapabor ng daan gumikan kay bisan wala pa ang filing of candidacies niadtong miaging tuig, naa na silay mga gipamayrang trolls aron magsabwag og mga bakak nga impormasyon diha sa Facebook.
Naglakip kini sa paghimo og kaugalingong kasaysayan, estorya, pagdaut sa mga kaatbang, hate speeches, pag-awhag sa uban paghimo og kadaut ngadto sa uban, pagpanghulga sa mga supporters sa ubang mga kandidato ug daghan pang uban nga dakong sukwahi sa moralidad o sa maayong gawi.
Kaning mga gipanangtang giingong "network" kini mao sab ang responsible sa mga pagguba sa mga websites sa mga lehitimong kompanya o organisasyon lakip na mga lehitimong mainstream media.
Gawas pa niini, gipalanog aning maong network ang pagpasapasa og mga tinuod ug mga duplicated accounts aron mopakatap og mga distributed denial of service o DDoS attacks, account recovery, ug defacement ug nikompromiso sa mga websites dinhi sa Pilipinas.
Gani gigamit sab kini pagpangilkil sa grupo nga kun di mosanong ang gihulgwang organisasyon o kompanya sa gipangayo nilang kwarta ilang gub-on ilang websites.
Kaning social media dako kaayo og impluwensiya sa tanan, mahimo kining gamiton sa maayo ug kadautan sa uban.