EDITORYAL - Brgy officials mao untay ehemplo
January 18, 2022 | 12:00am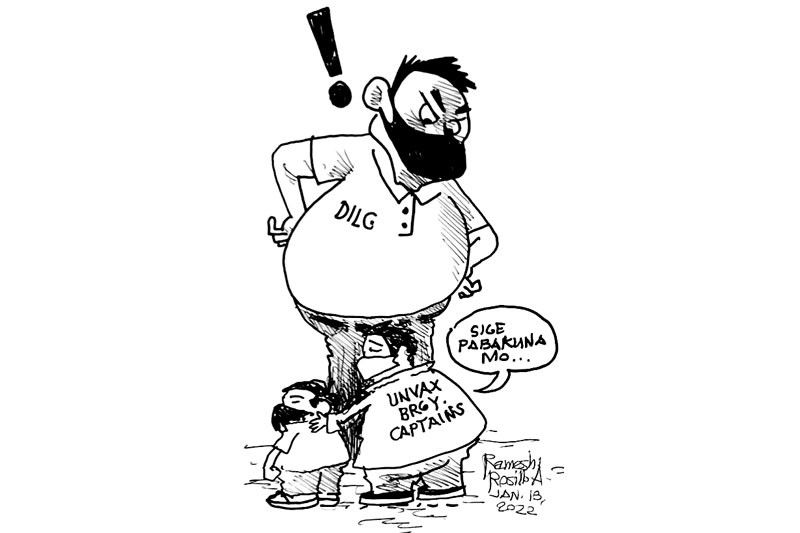 Salikwaot kaayong paminawon nga ang gobiyerno pinaagi sab sa mga local government units nangusog sa kampanya sa pagpamakuna apan diay duna pay daghan sa mga lokal nga opisyales ang wala magpabakuna.
Ang Department of Interior and Local Government miingon nga kadtong mga barangay officials nga wala magpabakuna mas maayo pang mo-resign sa katungdanan o ba kaha moduso og leave of absence sa ilang pwesto.
Ang DILG mipagawas sa maong warning tungod nagplano kini nga ipalista sa mga kapitan ang mga residenteng wala magpabakuna, kini aron limitahan ang ilang paglihok-lihok tungod kay dili sila protektado gikan sa Covid-19.
Apan unsaon man kaha kini paghimo sa kinasing-kasing sa mga barangay officials kun sila mismo wala gani magpabakuna. Kun wala sila magpabakuna, dili sab sila dapat mogawas-gawas.
Usa pa, dili ba ang mga kawani sa gobiyerno lakip ang mga elected officials, mao man gyud unta ang ehemplo sa katawhan? Gani ang bahad sa DILG, ipadakop ang mga kapitan nga wala magpabakuna kun dunay ordinansa nga napasar bahin niini tungod kay sila mismo mao gyud untay manguna sa kampanya pagpamakuna batok Covid-19.
Hangtud dili makab-ot ang herd immunity sa populasyon sa Pilipinas magsige gyud kini og balik-balik aning mga restriksyon nga makaapektar sa panginabuhi sa mga tawo. Apan dili man sab gyud mapugos tanan nga magpabakuna tungod wala man gyuy balaod nga naghimong krimen sa wala pagpabakuna.
Dunay mga tawong dili gyud magpabakuna tungod gidili sa ilang relihiyon, dunay uban nga dili mahimo tungod kay duna silay sakit nga gihambin, mga balido kining rason.
Apan duna say uban nga dili gyud balido ang rason nganong dili sila magpabakuna. Duna pay namasangil hangtud karon nga dili tinuod ang Covid-19 ug pangwarta lang kining tanan sa mga gobiyerno.
Makahibulong sab nganong walay magbabalaod nga nisuway paghimo og balaudnon, o bisan mga local officials paghimo og ordinansa nga mopugos gyud sa mga tawo nga magpabakuna kun walay balidong rason aron dili magpabakuna.
Dili ba ang Covid-19 gikonsiderar man nga pandemiya, nagpasabot kini nga public health threat gyud kini nga mamahimong basihan aron paghimo og balaod alang sa kasigurohan sa panglawas sa kinabag-an sa populasyon.