EDITORYAL - Ang VFA ug si Duterte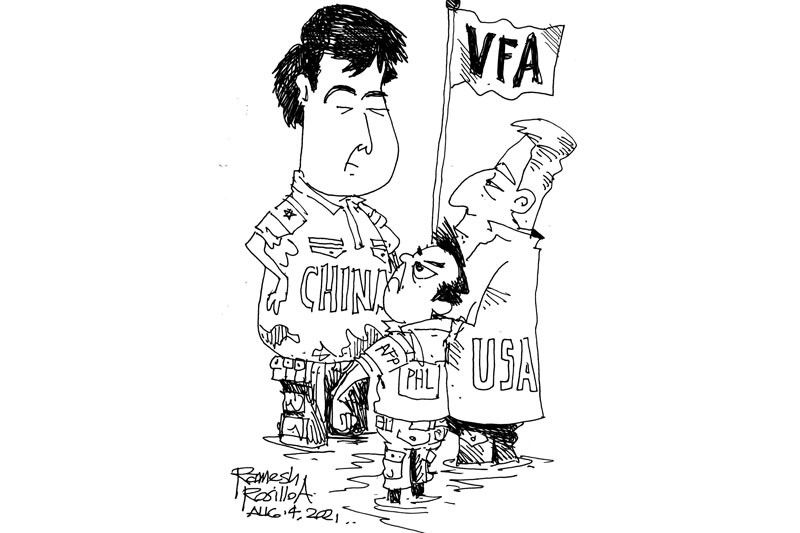 Dili na mahinayon ang abrogation o pagbasura sa Visiting Forces Agreement (VFA) tali sa Pilipinas ug sa Amerika nga karon gikalipay og dako sa mga Pilipino, samtang siguradong ikasuko sa China.
Sa sinugdanan palang si Pres. Duterte mipahibalo dayon nga iyang putlon ang VFA ug nakigsuod siya sa China uban sa pangangkong gusto niyang magbaton og independent foreign policy.
Mao ba gyud kaha ni ang intensiyon ni Duterte? Sayod siya nga bisag unsaon niya og insister dili siya rang usa maoy modesisyon bahin niini kay naay Senado nga kinahanglang moratipika.
Wala ba kaha niya nailad ang China nga pwerte sab og dayeg kaniya tungod niini?
Niya pa, walay gamit ang VFA kay way gibuhat ang US batok sa gipanghimo sa China sa mga teritoryo sa Pilipinas diha sa West Philippine Sea.
Isip pangulo sa nasud, si Duterte adunay access sa tanang mga impormasyon bahin sa mga kasabotang gisudlan sa Pilipinas tali sa mga kaalyadong nasud, samot na kun bahin seguridad ug alyansang militar.
Nakita ni Duterte ang mga buslot ug limitasyon sa VFA ug kini maoy iyang gisigehan og yawit. Usa niini mao nga modapig lang ang US kung atakihon og laing nasud ang Pilipinas.
Dihang namugna ang VFA, wala pay klaro kun ang mga giilogang teritoryo (sa WPS) gikonsiderar nga kabahin sa teritoryo sa Pilipinas.
Kini usab tingali ang rason nga nagapos ang mga kamot ug way nabuhat batok sa China ang US gawas lang sa pag-insister sa freedom of navigation ubos sa United Nations Convention on the Law of the Sea (UNCLOS) nga gitamdan sa tanang mga nasud.
Apan sa dihang nigawas ang hukom sa kasong gipasaka sa administrasyong Aquino niadtong 2016 batok sa China didto sa Arbitral Tribunal nga miila sa katungod ug soberiniya sa Pilipinas sa WPS ubos sa 200 nautical miles exclusive economic zone (EEZ) subay sa UNCLOS, nausab ang tonada sa US.
Karon mas agresibo na sila pagbahad nga kung atakihon ang bisan unsang barko o abyon sa Pilipinas diha sa WPS isipon nila kining pagatake sa nasud sa Pilipinas ug mo-apply na ang VFA.
Mao usab tingali ni ang rason nga gibakwi ni Duterte ang abrogation letter sa VFA.