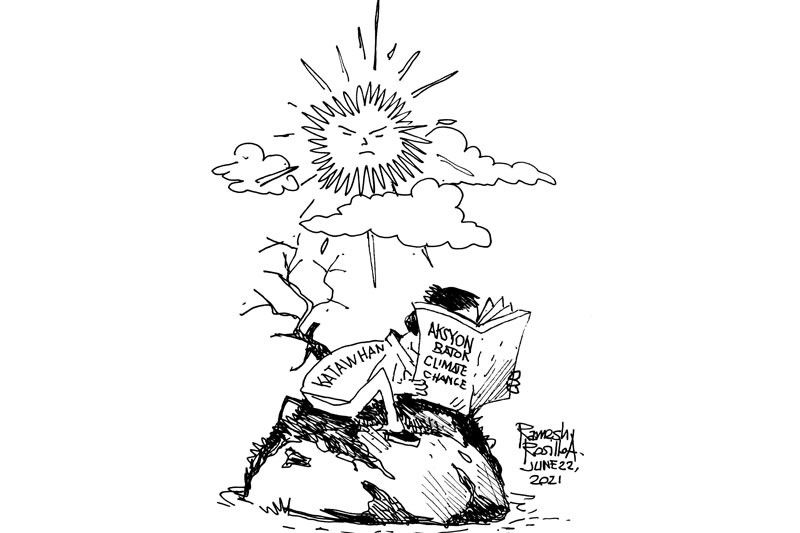 EDITORYAL - Climate change nga wala atimana
(Banat) - June 22, 2021 - 12:00am
Nidoble ang kainiton karon sa kalibotan sud sa nakalabay nga 14 ka tuig base sa gihimong pag-rekord gikan tuig 2005 hangtud tuig 2014 sumala pa sa gipublikar nga artikulo sa Geophysical Research Letters nga gikutlo sa EcoWatch. Sa gipublikar nga artikulo nga gititulohan og Earth's Energy Imbalance, nakita sa pagtuon ang kainiton gikan sa adlaw nga nituhop sa yuta ug ang gipahungaw niini nga kainiton padung sa kawanangan.
Nakita nga gamay lang gamay ra nga kainit ang napahungaw sa yuta ug mas daghan ang nituhop sa ilawom hinungdan nga nasinati karon ang daghang mga adlaw nga igang ug init ang panahon bisan tingulan sumala pa sa NASA. Matud pa sa usa sa mga imbestigador sa Langley Research Center nga si Norman Loeb makahingangha ug makapaalarma kini dobleng pagsaka sa temperatura sa kalibotan.
Gisugdan ang pagtuon niadtong tuig 2005 hangtud 2019 ug ilang nakita nga nidoble gyud ang kainiton sa temperatura sa kalibotan karon.
Dunay duha ka mga independenteng pamaagi pagsukod sa kainiton sa kalibotan nga mao ang Clouds and the Earth Radiant Energy System (CERES) sa NASA ug ang Argo Network nga nagsukod sa kainiton sa temperatura sa dagat.
Nagkatukma ang resulta sa tagsatagsa nila ka pagtuon ug obserbasyon. Nobenta porsiyento sa enerhiya gikan sa adlaw ang gi-absorb sa dagat.
Hinuon gawas sa greenhouse gas emissions (polusyon gikan sa makinarya ug binuhatan sa tawo) nakaimpluwensiya sab kining naghinobrang init nga napugngan sa baga nga panganod aron mobalik sa kawanangan.
Samtang tuod lisod para sa mga yanong tawo sabton kining mga siyentipikong pagtuon dako gihapon sila og matampo pagpugong o bisan nalang pagpahinay sa negatibong epekto sa climate change.
Kinahanglang manguna ug maghiusa ang nagkadaiyang gobiyerno sa kanasuran paghimo og aksyon. Sama nalang sa mga LGUs, walay kapuslanan kining mga cleanup drives kun ang silingang LGUs dili makigdungan o dili mokooperar ilabi na kun silang tanan nahimutang lang sa usa ka lokasyon. Usa niini ang higpit gyud nga pagsunod sa Solid Waste Management Act nga diin gimando ang saktong pagbahig sa basura ug uban pang mga balaod pagprotihir sa kinaiyahan.