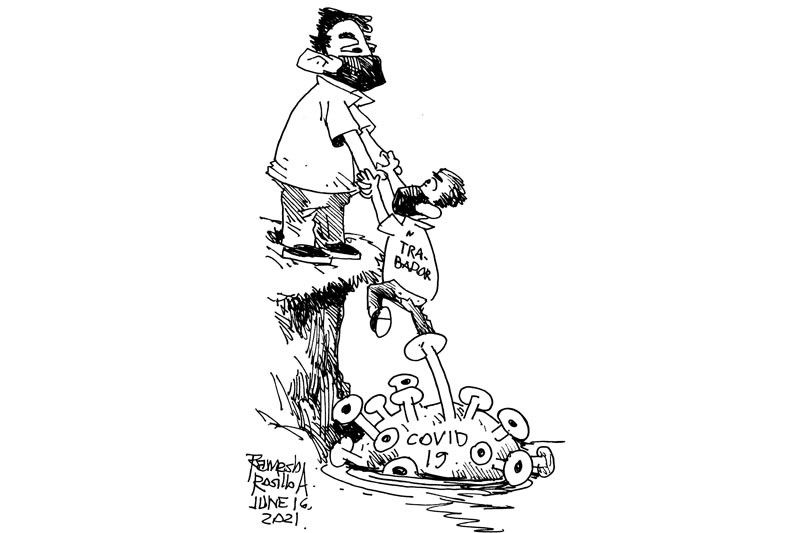 EDITORYAL - COVID-19 sa trabahoan
(Banat) - June 16, 2021 - 12:00am
Nakapakurat sa mga Sugbuanon ang kalit nga pagsaka sa gidaghanon sa bag-ong mga kaso sa Covid-19 nga gipagawas sa Department of Health niadtong Hunyo 14, 2021 nga miabot og 74 ka mga kaso gikan sa 22 ka bag-ong kaso niadtong Hunyo 13, 2021.
Ang 49 niini pulos mga construction workers sa usa ka construction site. Mahimong ingnon nato nga dili kaayo ikaalarma sanglit naa ra sa usa ka lugar o trabahoan ang pagkuyanap sa maong sakit ug dali rang nakontrol.
Apan dili angay igsapayan nga kining hitaboa makapangutana gyud ang katawhan kun nganong nahitabo kini, wala ba diay mosunod sa health protocols kining maong mga trabahante?
Unsa may gihimo sa ilang health and safety officers ug daghan man ang natakdan sa ilang mga trabahante. Wala ba diay motuman sa health protocols ang mga trabahante diha sa sud mao nga nagkatinakdanay sila?
Laing pangutana, kaning maong mga construction workers nga diin duha ra kanila ang dili taga Cebu City, nagpasabot ba kini nga tigulian sa ilang tagsa-tagsa ka panimalay dinhi sa siyudad kining 47 ka mga trabahante?
Asa man gikan kining infection, sa ilang balay ug nadala sa trabahoan? Pagmatuod lang kini nga wala pa gyud hingpit nawala ang maong sakit ug gani posibleng daghan na sa mga tawo ang nataptan niini apan wala lang gyuy gipamati sa lawas.
Hinuon maayo nalang nga duna silay Health Infection and Prevention Officer (HIPCO) nga nagpahigayon og swab testing sa 100 nila ka sakop human dunay duha nga napositibo sa anti-gens.
Karon nga nakasugod na og pamakuna dili unta mokumpiyansa ang mga tawo.
Kaning bakuna naghatag og sayop nga panglantaw nga pwede nang mo-relax sa pagsunod sa minimum health protocols, duna gyuy uban nga nagtuong dili na sila matakdan sa Covid-19 tungod lagi kay duna nay bakuna karon. Sayop kini nga pagsalig, dili alternatibo batok sa pagkatap sa Covid-19 ang bakuna. Mas epektibo ang pagsunod sa minimum health protocols sa tanang oras ilabi na kun mogawas sa panimalay.
Ang bakuna maghatag lang og proteksyon sa lawas nga dili magrabehan batok sa virus apan dili kini taming aron dili masudlan sa maong sakit ang lawas.