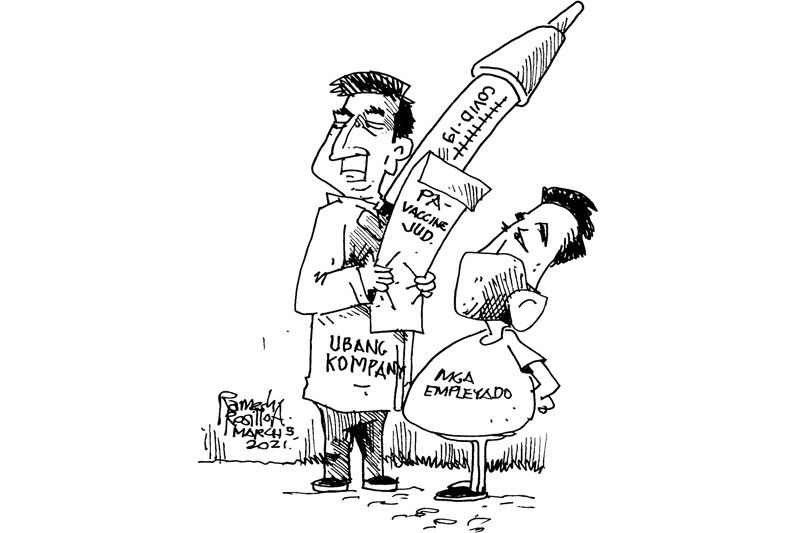 EDITORYAL - Nagdali sa bakuna
Nangabut-abot na ang mga bakuna gikan sa gawas sa nasud. Nag-una niini ang Sinovac gikan sa China ug gipaabot nga moabot sab ang AstraZeneca vaccine gikan sa South Africa kagabii. Apan tinuod ba kining mga nanggawas mga estoryang adunay mga kompanya nga gihimong rekisitos karon para sa ilang mga empleyado nga sila kinahanglang makapabakuna batok sa Covid-19?
Kinahanglang mohimo og imbestigasyon ang Department of Labor and Employment kun unsa kini ka tinuod. Kay kun buot hunahunaon lisud pa man kining kab-uton intawon sa katawhan karong mga panahona.
Una sa tanan, limitado pa ang supply sa bakuna ug wala pa nakahunat ang vaccine rollout sa nagkadaiyang local government units ug sa nasudnong kagamhanan.
Kun duna man gani bakuna nga dili gikan sa gobiyerno asa man intawon og kwarta ang mga yawong trabahante pagpalit ani?
Base sa direksyon nga gitaak karon, daw dire-diretso na kining pagpamakuna sa gobiyerno para sa mga Pilipino apan dili kini makompleto karonng tuiga.
Ang gobiyerno nagtinguhang mabakunahan ang 70 milyones nga Pilipino karong tuiga hangtud sa sunod tuig ug makompleto tanan ang 110 milyones sa mosunod nga duh aka tuig. Apan tungod kay bag-ohay pa man nangabot ang mga bakuna dinhi sa Pilipinas (ang Pilipinas maoy kinauwahian sa tibuok Southeast Asia nga nakakuha og Covid-19 vaccine. Unya karon ang unahon o prayoridad sa pagbakuna mao ang mga frontliners gikan sa kasundalohan, kapulisan ug medical frontliners, barangay ug LGUs frontliners ug senior citizens.
Sa ato pa, malangan pa gyud og gamay ang bakuna para sa mga yanong Pilipino, o kadtong wala magtrabaho sa gobiyerno ug wala malakip sa grupo sa mga frontliners.
Busa dili makatarunganon para himuong rekisitos sa mga kompanya ngadto sa ilang mga empleyado ang vaccination certificate. Ang gobiyerno nag-ingon man gani nga way pugsanay kining pagpabakuna, unya dunay mga kompanyang molisud-lisod sa ilang mga empleyado aron magpabakuna?
Kung nagdali man ang kompanya, mas maayo pang sila nalang maoy mamalit og kaugalingong bakuna ug sila nalang magpabakuna sa ilang mga trabahante.