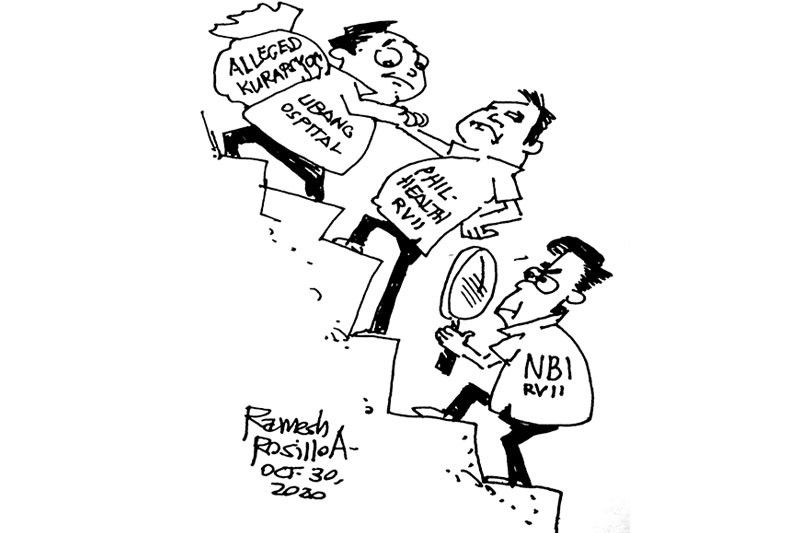 EDITORYAL - Hustisya para sa tanan
Aduna karon mga opisyal sa PhilHealth dinhi sa Sugbu nga giimbestigar sa National Bureau of Investigation-7 mahitungod sa gialegar nga mga anomalya sa pagpagawas og pundo para sa mga benepisaryo niini.
Dili nalang hisgutan dinhi kun unsa ang mga detalye aron dili masuhong ang imbestigasyon. Sanglit naghinam-hinam ang katawhan madungog ug makita ang mga tawong maoy sad-an nga nangawkaw sa ilang kwarta. Ang Department of Justice naghimo og imbestigasyon batok sa mga opisyales sa PhilHealth didto sa kaulohan hinungdan nga kapin 40 nila ka mga senior officials ang sayong niretiro tungtunga sa imbestigasyon.
Tungod sab niini, ang tanang regional offices sa PhilHealth gihimoan sab og imbestigasyon sa mga lokal nga NBI offices partikular sa ilang gisubay mao kadtong mga pasyenteng giingong nangatakboyan og novel coronavirus disease.
Sa sayo pa niini, adunay matud pa adunay mga nahitabong iregularidad sa mga kaso sa pasyente aron padug-on sila ug ang PhilHealth nga moabag pagsawo sa gastos sa mga tambalanan diin gidala ang mga pasyente. Kaning hokus-pokus dili kini molampos kun way bendisyon sa mga tag-as og posisyon sa maong buhatan nga nakigkunsabo sab sa mga taga tambalanan, pribado ba kaha o publiko, aron ang gobiyerno mopagawas og pundo.
Kun mao kini ang sistema, dili na ikahibulong ang paglugwa sa balita nga nag-ingong hurot-hurot na ang pundo sa PhilHealth. Asa man kadto napunta? Sa bulsa sa mga kurakot nga opisyales ug mga tambalanang kakunsabo. Maayo iampo sa publiko nga mailhan kinsa ni sila sila hasta kining mga pribadong tambalanan nga nagpaburot tanan sa ilang presyo sa mga serbisyo, mga medical supplies, tambal nga gidapat sa ilang pasyente, kay nasayod silang saw-on sa PhilHealth ang bills.
Apan angay klaruhon ug siguraduhon nga duna gyuy maposasan ug mahatag ang hustisya para sa gobiyerno tungod aning maong binuang sa pipila ka gisaligan sa katawhan. Duna gyuy panultihon, wala si bisan kinsang nakahimo og salaod ang hangtud sa hangtud makatago gikan sa balaod.