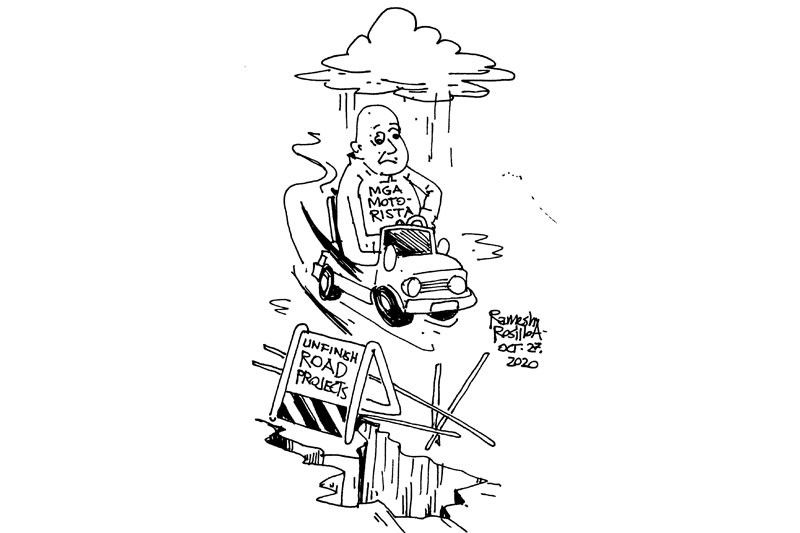 EDITORYAL - Peligro sa karsada sa pagsige og uwan
(Philstar.com) - October 27, 2020 - 12:00am
Pipila na ka adlaw nga nagsige og bunok ang uwan dinhi sa Sugbo maong basa pirme ang karsada, dunay mga lugar nga lupa kaayo nga napundo na ang tubig maabtan nalang sa laing pagbunok sa uwan wala gyuy paghubas nga nahitabo.
Apan gawas sa mga residential areas nga gibahaan ug nanulod sa kabalayan ang tubig, peligro na usab alang sa mga motorista ang karsada tungod kay ang karsada natabunan na og tubig sa baha nga wala nay kagawsan.
Kadtong mga libaong di na mabantayan sa mga motorista panagsa rang maagi sa maong dalan, apan duna gyuy mga libaong nga dugay na kaayong naa diha nga wala gyud atimana.
Usa niini kaning mga gipangkawot nga bahin diha mismo nagkurus sa dalan nga gituohang mga drainage projects ug utilities nga gihunong ang pagtrabaho sa wala mahibaw-ing rason.
Dunay usa ka susamang proyekto naa diha duol sa ganghaan sa Chinese Cemetery sa dalan M.J. Cuenco Avenue sa Barangay Carreta ug Hipodromo.
Ang kontraktor wa man lang magbutang og warning signs bahin sa maong kanal nga nagkurus sa dalan, way barikada, o warning lights nga maghatag og pahibalo bahin niini ngadto sa mga drayber.
Daghang mga motorista na napurhisyo tungod anang gibiyaang kanal tungatunga sa dalan nga way takob.
Karong nagsige og bunok ang uwan mas peligroso kaayo kini para sa mga road users ilabi na kadtong dili magkanunayan og agi sa maong dapit tungod kay matabunan man sa tubig sa uwan ang kanal tungatunga sa karsada.
Ang pangutana, nasayod ba niini ang Department of Public Works and Highways-7, ang City Engineering Department, ang Cebu City Traffic Office, ang kapolisan nga maglabay-labay sa lugar aron lang unta paghimo og report alang sa safety sa tanang mangagi sa dapit?
Hain naman ang mga barangay officials aning duha ka barangay, syaro wala sila mahibawo nga dunay ingon niana nga road hazard sa ilang dapit? Pila ra may pagtawag sa mga hingtungdan ahensiya sa gobiyerno aron ipatarong kini?
Duna nay mga naaksidente sa maong kanal di nalang unta maghuwat pa og aduna nay makalas.