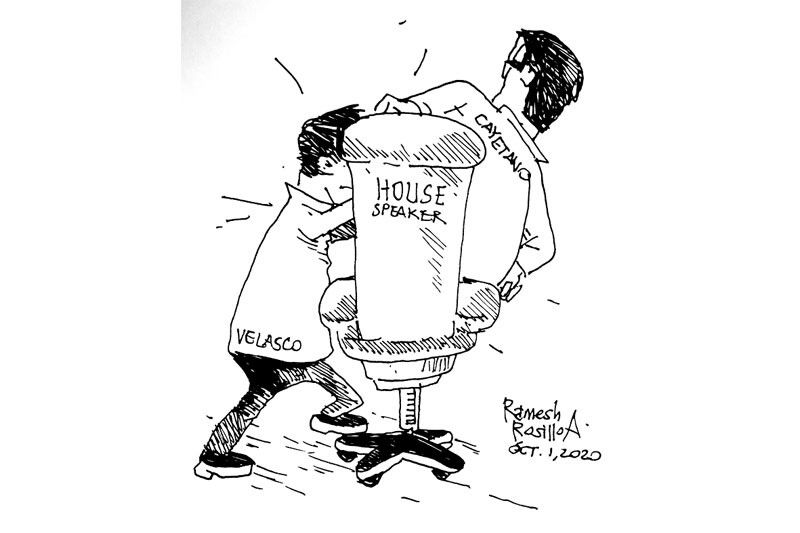 EDITORYAL - Gubot pa sa lukot
(Banat) - October 1, 2020 - 12:00am
Gubot pa sa lukot. Mao kini ang mahulagway sa Ubos Balay Balauranan kabahin aning term-sharing nila ni Speaker Alan Peter Cayetano ug Marinduque Representative Lord Allan Velasco.
Ang duha parehong mga kaalyado ni Pres. Duterte. Si Cayetano maoy midaog sa botasyon niadtong Hulyo 2019 sa Ubos Balay Balauranan isip Speaker of the House.
Ang iyang kaatbang mao silang Velasco ug laing kaalyado ni Duterte nga si Leyte Representative Martin Romualdez.
Hinuon midaog si Cayetano sa botasyon nga di na angay ikatingala tungod kay mas ilado siya kun itandi sa duha. Tungod kay siya may ka-tandem ni Duterte sa 2016 presidential elections sa wala pa kini mokandidato pagka-kongresista pagusab.
Karong napupos na ang termino ni Cayetano nga maoy ilang nasabotan daw dili pa siya gustong mokanaog aron matiwas ang pagtuki sa 2021 national budget. Dako ning sukwahi sa iyang saad nga motuman siya sa maong kasabotan.
Tungod sa kaguliyang, mipatunga pa si Duterte sa duha ug giingon nga mihangyo ang presidente nga karon nalang Disyembre molingkod si Velasco aron tiwason ang pagtuki sa 2021 budget ug uban pa.
Apan daw di mosugot si Velasco. Mao nga kagahapong adlawa mipadayag si Cayetano nga mo- resign sa pagka House Speaker.
Kun mahitabo kini, way laing mahimo ang mga magbabalaud kundili ang pagpalingkod kang Velasco o pagtawag og botasyon kun kinsay mopuli kang Cayetano.
Maayo nalang nga sa gihimong botasyon bahin sa pag-resign ni Cayetano motingog ang super majority ug ang minoriya pabor niya.
Ang relasyon sa duha duna nay lama gikan palang sa pagsugod. Karon hasta ang 2021 national budget nga kinahanglanon kaayo alang sa recovery sa nasud gikan sa pandemiya posible pang maapektahan.
Way makapaputol ug makasulbad aning isyuha kondili sila rang duha isip mga hamtong na unta nga mga lider. Kinahanglan pang magpatagad ang usa'g-usa, unsa nalay ikasulti sa mga namotar ninyo?
For God and Country man kaha ning panerbisyo ninyo?