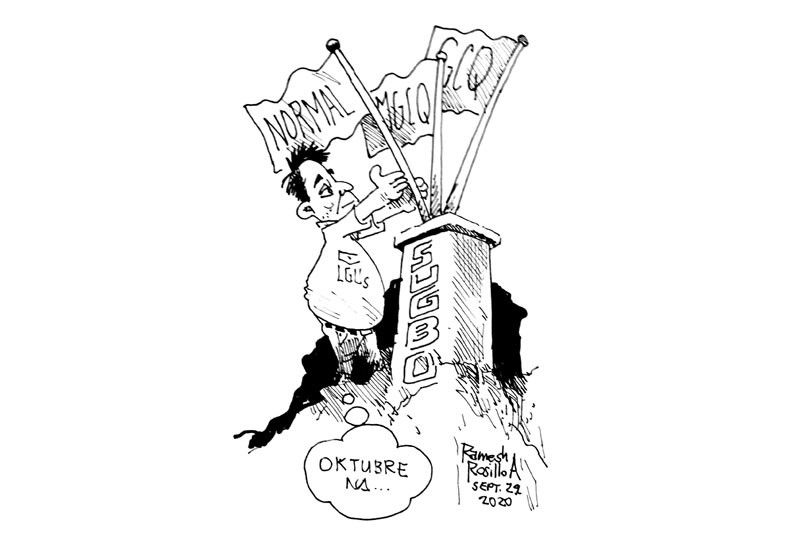 EDITORYAL - Andam na ba ang Sugbo?
(Banat) - September 29, 2020 - 12:00am
Daghan na ang naghinam-hinam sa pagabot sa Oktubre, ang mga tawo naglaum nga malibkas na ang gipatumang quarantine protocols nga gihimo sa gobiyerno aron pagpakgang sa pagkatap sa novel coronavirus disease dinhi sa nasud.
Niadtong nakalabay nga mga buwan, ang Inter-Agency Task Force on Emerging Infectious Disease miingon nga sa bulan sa Oktubre magdungan ang tanan mga dapit sa nasud nga libkason ang quarantine protocols.
Apan bisan wala moingon ang mga opisyal sa rason o basihan, apan masabtan nga mahitabo lang kini kun makita nga kontrolado ba ug ubos na kaayo ang tsansang modaghan ang mga kaso.
Usa sa mga peligrong gilikayan sa gobiyerno niini mao ang pagdaghan sa kaso unya dili kayahon sa mga tambalanan ang pagatiman sa mga pasyenteng nagka-COVID- sama sa nahitabo niadtong bulan sa Hunyo dinhi sa Sugbo.
Niadtong bulana kalit nga misirit ang pagsaka sa mga kaso maong mitiyabaw na ang mga health workers sa padayong pagabot sa mga pasyente ug wala na silay pahuway ug labaw sa tanan nahurot-hurot na ang mga medical supplies para sa COVID-19. Tungod niadto ang nasudnong kagamhanan nipadala sa grupo ni Environment Secretary Roy Cimatu dinhi sa Sugbo ug nangunay pagtabang ug nisuporta ug nipalig-on pa sa mga COVID-19 response sa siyudad.
Ning nanglabay nga mga semana, makita sa talaan sa Department of Health Central Visayas ang padayong pagkubos sa mga kaso dinhi sa Cebu City nga makausa nabansagang "epicenter of COVID-19" niadtong bulan sa Hunyo hangtud Hulyo. Dako og natabang sa paningkamot sa siyudad pinangulohan ni Mayor Edgardo Labella ug mga opisyales nga gitahasan sa COVID response sa siyudad ang pagpaubos sa siyudad og quarantine protocols. Ang Cebu City ubos karon sa modified general community quarantine MGCQ .
Gawas sa siyudad, ang tibuok isla sa Sugbo ubos sab sa MGCQ nga mas luag apan pablin ang estriktong pagpasunod sa minimum health protocols.
Ang pangutana, andam na ba gyud ang Sugbo nga mosulod sa new normal nga wala nay quarantine protocols nga gipatuman? Dili ba kaha mosaka og kali tang mga kaso kung paluagan pa ang kwarantina?