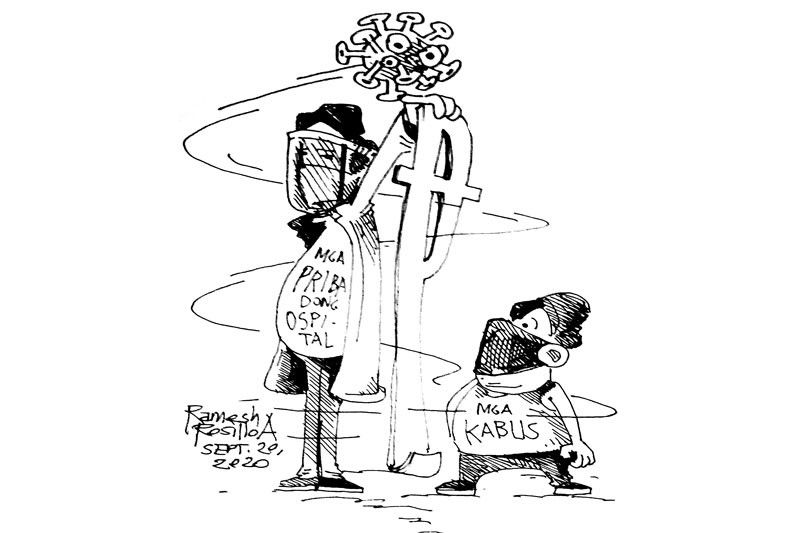 EDITORYAL - Hinuklogi ang pandemiya
Daghang leksyong nakat-onan ang mga tawo niining pandemiyang dala sa novel coronavirus disease. Ang kapasidad ug kapabilidad sa tawo ug ang dakong papel sa gobiyerno aning panahon sa kalisdanan.
Nabantayan nga kining mga pribadong tambalanan daw nagpatuyang sa ilang presyo sa serbisyo ug mga galamiton pagatiman sa pasyente karong dunay pandemiya. Tungod dunay guidelines ang Department of Health nga gipasunod sa tanang mga tambalanan pribado man o pangpubliko nagpatuyang ra sab sila.
Usa na niini ang pagpaubos sa swab test sa tanang pasyenteng dad-on diha kanila nga dunay mga sintomas sa trangkaso, o kadtong na-expose sa gisuspetsahang dunay COVID-19 o ba kaha nakabisita sila o nagpuyo sila sa lugar nga dunay aktibong lokal nga mga kaso sa maong sakit.
Pabayran kini hasta ang suotong PPE sa mga doctor nga moatiman ug dili tiaw kamahal.
Apan mas makaalarma ug makapaguol kining mga report nga bisan way COVID-19 ang pasyente, ipa COVID-19 aron modako ang bills total saw-on man sa gobiyerno ang ubang balayrunon.
Nagduda na hinuon ang publiko nga ginegosyo na sa uban kining pandemiya. Sa pagkakaron adunay gihimong imbestigasyon ang Department of Justice may koneksyon sa kontrobersiya sa PhilHealth nga kaabag sa mga pasyente pagbayad sa ilang hospital bills.
Dili ikalimod nga mas maayo sab ilang pasilidad ug serbisyo kun itandi sa mga public hospitals, apan dili man kini libre.
Apan sa panahon sa pandemiya sama kadako ug kalapad sa COVID-19, maayo sab unta nga ikonsiderar sa mga pribadong tambalanan nga ang tanan naglisod. Bisan ang gobiyerno naglisod pagatiman sa tanang pasyente maong ang uban adto sa pribadong tambalanan gidala ang pasyente bisan nihit ilang panalapi.
Pinaagi aning pandemiya daghang mga nakitang kinahanglang usbon sa sistema. Ang gobiyerno ray makapausab niini pinaagi sa mga regulasyon. Sa habig sa katawhan, nasukod sab ang ilang kapasidad ug kapabilidad kun adunay kabanay nga maospital.
Makapahinuklog unta kini sa tanan nga dili sa tanang panahon mahatag tanan sa gobiyerno ang panginahanglan sa publiko.
Mas labing maayo pa gyud diay nga dili magsalig ug maglikay alang gyud nga masakit.