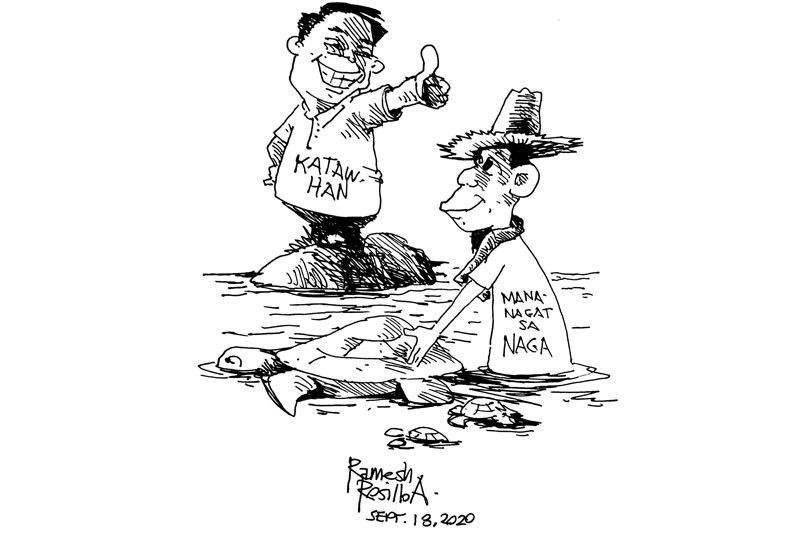 EDITORYAL - Saludo para sa mananagat
(Banat) - September 18, 2020 - 12:00am
Diay usa ka mananagat sa Dakbayan sa Naga nga talagsaon ra kaayo ug gibuhat nga angay pasalamatan ug pasidunggan dili lang sa lokal nga kagamhanan kondili sa tanang mga tawo.
Ang maong mananagat nakamata sa kasikas diha sa gawas sa ilang balay ug sa iyang pagsusi, usa kini ka dakong pawikan nga sa iyang pagtuo nagluya. Apan diay to nangita kini og dapit kun asa makapangitlog.
Maayo nalang nga sa maong tugkaran napunta ang maong pawikan, gipasagdan ra siya kun asa siya mangitlog, tuod man niadtong miaging adlaw, hinayhinay nga nanggawas ang mga bag-ong napusa nga mga pawikan, 96 sila ka buok.
Ang pawikan gikonsiderar na nga endangered marine animal tungod kay gawas sa pagkaon kanila sa mga tawo tungod sa pagtuong makapagana kini sa panghilawas, paggamit sa ilang bayanan aron himuong mga muwebles ug adorno.
Pagkaon sab sa mga nitibo sa mga hilit nga isla ang pawikan sukad pa kaniadto apan gidid-an na sab sila paghimo niini.
Dako sab og natampo sa pagmenus sa gidaghanon sa mga pawikan tungod kay ang mga baybayong tradisyonal nilang adtuon aron didto mangitlog nangawala na kay gipuy-an na sa mga tawo.
Laing hinungdan sab sa pagkahurot sa mga pawikan mao kining aksidenteng pagkuha kanila sa mga mananagat, ang uban patay napagsaka gikan sa dagat maong dili na mabuhian.
Ubos sa mga balaod sa Pilipinas ug sa international laws nga giuyonan sa mga kanasuran gidili ang pagkuha, pagpatay ug pagbaligya sa tanang matang sa pawikan.
Ang pawikan nasakop sa Convention on International Trade in Endangered Species of Wild Fauna and Flora (CITES) tanang commercial trade niini gikonsiderar nga ilegal.
Ang mopasipala sa mga pawikan dinhi sa Pilipinas mahimong mapriso og di momenus 12 ngadto sa 20 ka tuig. Ang pawikan dako'g papel sa pagpreserbar sa mga gasang ilawom sa dagat
Apan mas dako og papel ang mga tawo pagamuma ug pagatiman sa kinaiyahan.
Angay saludohan kining pamilya sa mananagat nga miatiman niining pawikan ug mosanay pa unta ang mga kaparehas nila og gawi diha sa kabaybayonan.