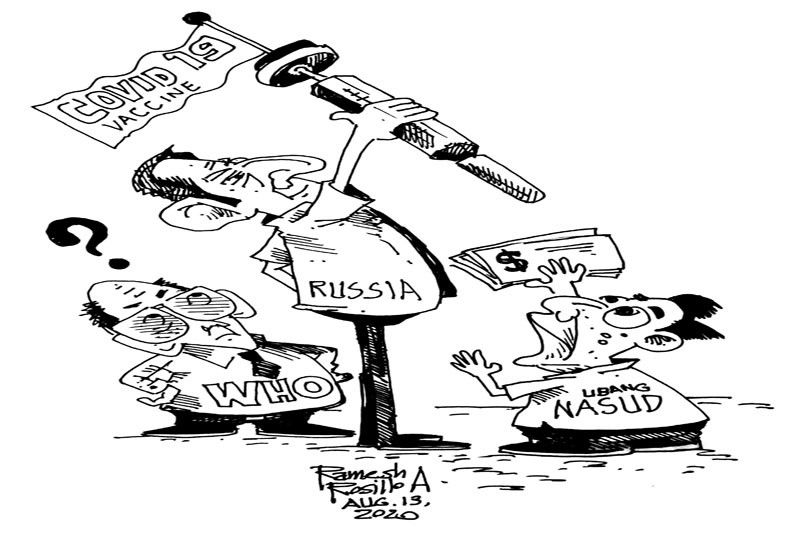 EDITORYAL- From Russia with love kaha?
Ang pangangkon sa Russia nga nadiskubrehan na nila ang labing unang bakuna batok sa novel coronavirus disease makaayo o mas magbutang hinuon sa mas grabeng peligro sa panglawas sa mga tawo sa kalibotan.
Ang gitawag ni Russian President Vladimir Putin nga "Sputnik V" nga bakuna batok COVID-19 mas nakapatumaw og mas daghang pangutana ug pagduda tungod kay dili ingon niini kadali ang pagdiskubre ug pag-testing sa bakuna kun kini epektibo.
Garbo kaniadto sa Russia sa dihang silay unang nakapadala og satellite sa kawanangan pinaagi sa ilang Sputnik satellite niadtong Oktubre 4, 1957. Gilupig nila ang karibal nga Estados Unidos sa lumba.
Mao ba sab kini ang naa sa hunahuna sa Russia ning panahon sa pandemiya? Wala ba kaha tuyoa sa Russia kay gawas sa garbo, nasayod silang bilyones dolyares ang kitaon kun silay makauna? Taas-taas na ang listahan sa mga nasud nga mipahibalong interesadong mopalit kun duna nay bakuna. Kinahanglang mag-amping ang Pilipinas pagpalit og bakunang wala pay kasigurohan kun epektibo.
Kuyaw og tungod sa pressure, mopahibalo sab ang ubang nagtinguhang makakwarta sa bakuna nga duna sab silay epektibong bakuna apan hawshaw ra sab diay.
Ang World Health Organization (WHO) miingon maabta'g 18 ka buwan ayha pa makapagawas og rekomendasyon kun epektibo ang usa ka bakuna.
Siyam palang ka bulan dihang unang natala ang kaso sa COVID-19 niadtong Oktubre sa tuig 2019 didto sa Wuhan City sa China.
Adunay 165 ka mga kandidatong bakuna batok sa COVID-19 nga giugmad tibuok kalibotan, apan unom palang niini ang nakaabot sa Phase 3 sa clinical trials. Wala pa niini ang Gamaleya Research Institute of Epidemiology and Microbiology nga nigama sa Sputnik V. Sa Phase 1 trial, dili kaabot 100 ka volunteers ang suwayan sa bakuna, sa Phase 2, 100 ka tawo apan ang tutokan mao ang dosage samtang sa Phase 3, liboan ka tawo ang gamiton aron pagtino kun epektibo kini.
Sumala pa sa report sa Washington Post, usa ang Pilipinas sa plano sa Russia nga pahigayonan sa Phase 3 sa ilang bakuna. Mosugot kaha niini ang mga Pilipino?