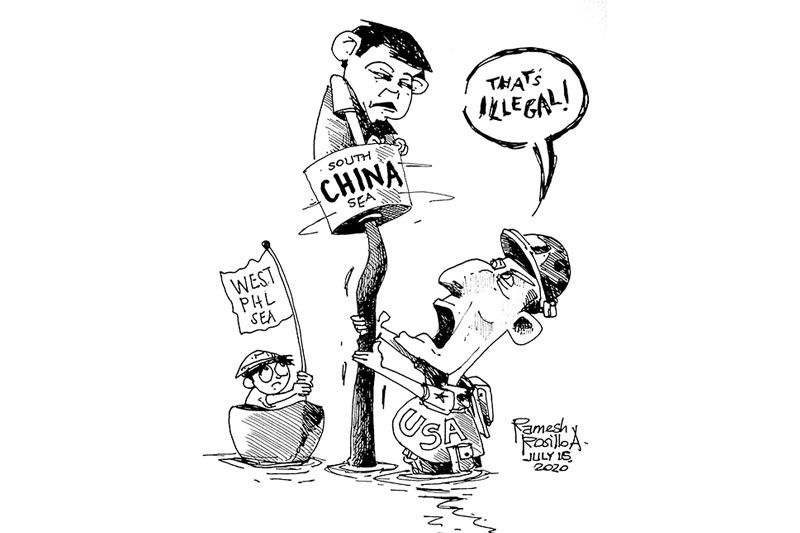 EDITORYAL - Pagtingog sa US batok China
Sa kataposan nagpaklaro na ang Amerika kun asa kini pusta bisan pa man og klaro ng daan kun asa kini dapig sa isyu sa panag-ilogay sa teritoryo diha sa South China Sea diin mahimutang sab ang West Philippine Sea nga giangkon tanan sa China.
Gitawag nga ilegal, way basihanan ang pangangkon sa China sa tibuok SCS. Wala kini nagsubay sa international law nga maoy gisunod sa mga kanasoran.
Ang maong pamahayag gibatbat ni US Secretary of State Michael Pompeo atol sa ikaupat nga anibersaryo sa kadaogan sa Pilipinas sa panahon ni kanhi Pres. Benigno Aquino III batok sa China diha sa Arbitral Tribunal niadtong 2016. Subo lang nga paglingkod ni Pres. Duterte wala niya kini hatagi og importansiya ug nakigsuod hinuon sa China.
Ang Arbitral Tribunal nihukom pabor sa Pilipinas bahin sa katungod niini sa Scarborough Shoal nga ilegal nga giangkon sa Chinabase lang sa ilang hinimo-himong 9-dash line. Pito ka mga dapit sa WPS ang giokupar na karon sa China. Apil niini ang Mischief Reef (Panganiban Reef). Samtang ang Second Thomas Shoal (Ayungin Shoal) ilaha sab giangkon apan ang BRP Sierra Madre tuyong gisangad sa Philippine Navy aron permanente kining mabantayan.
Ang maong mga lugar sulod pa sa 200 nautical miles exclusive economic zone (EEZ) sa Pilipinas subay United Nations Convention on the Law of the Sea (UNCLOS). Bisan ang Indonesia ug Vietnam migamit sa 2016 ruling tribunal batok sa China nga nangilog sab sa ilang teritoryo.
Magmagahi man ang China sa ilang posisyon dili niini malilong nga sa mata sa kalibotan nga legal kadto nga hukom. Dakong sayop kun ang Pilipinas magpadayon sa pagyanguyango sa China; magpakabuta-bungol ug padayong nagtuong maayong higala ang China ug gipasagdan lang sa tanan nilang gustong buhaton sa WPS.
Samtang maayo nga dayag na ang posisyon sa Amerika ug gipaabot nga mosunod sab ang ubang mga kaalyado niini, mas makaayo sa mga Pilipino kun maningkamot kini pagbarog batok sa China.
Dili respetuhon ang Pilipinas kun magpabilin kini sa pagpakaaron-ingnon nga kadugayan tahuron kini sa China. Dili kini mahitabo.