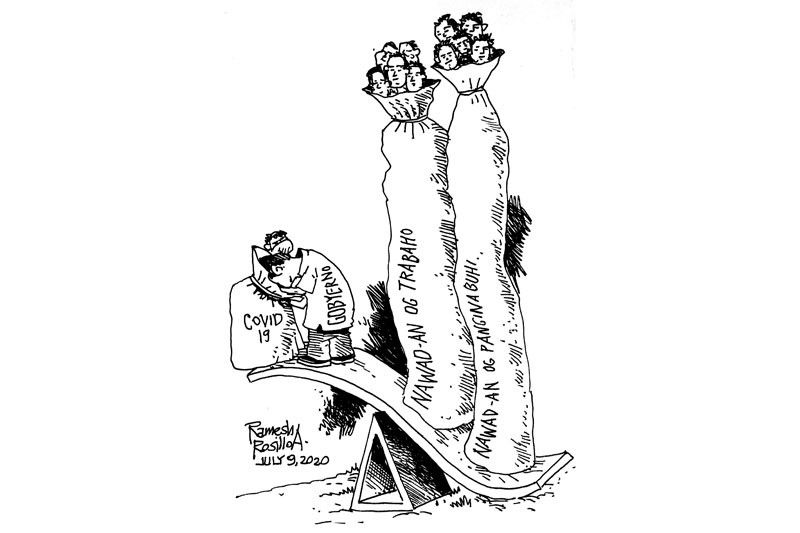 EDITORYAL - Kinsa may labing naapektahan?
(Banat) - July 9, 2020 - 12:00am
Bisan sa pangangkon sa gobiyerno nga malampuson ang Pilipinas kontra novel coronavirus disease, sukwahi man ang sentimiyento sa publiko diha sa ubos bahin sa maong pamahayag.
Si Presidential Spokesman Harry Roque namahayag ning bag-o nga nalupigan sa mga Filipino ang prediksyon sa University of the Philippines experts bahin sa gidaghanon sa mga matakboyan sa maong sakit.
Apan angay hunahunaon nga bisan pa niini, mga numero lang kini sa mga natakboyan ug nangaayo.
Mas maayong tan-awon kining kalisdanang giagwanta karon sa katawhan sugod pa niadtong Marso.
Sa mga adunahan tingali may kahulogan kanila ang pamahayag ni Roque apan dili para sa mga yanong mga tawo ilabi na sa mga kabus.
Ang katawhan, dato ug mga kabus nangatanggong tungod sa quarantines.
Apan sa duha kining mga kabus maoy wala nay makaon kay wala nay pangita. Mao nga daghan na ang mirisgo sa paggawas sa balay aron lang makakaon ang ilang pamilya. Butang nga wala matagamtami sa mga adunahan.
Mao unta kini ang tan-awon og maayo sa mga opisyales sa gobiyerno, sensitibo sab unta sila sa gibati sa mga anaa sa kinaubsan dili lang pasiatab atubangan sa kamera.
Ang hinabang gikan sa gobiyerno dili paigo kay gawas nga limitado may dala pang panghadlok.
Karong panahona, bisan makasohan pa modawat na uy kay wala nay matiti pang tinipigan.
Samtang nagkadugay, nagkadako sab ang kabalaka sa mga tawo sa ilang kaugmaon ug sa ilang mga anak dili tungod lang sa virus kondili sa ilang pinansiyal nga kahimtang tungod daghan ang nawagtangan og panginabuhian. Sa tinud-anay, samtang naglisud ang tanan lakip na ang gobiyerno sa sitwasyon karon, apan dili ikalimod nga ang mga yanong tawo maoy labing naapektahan kay bisan wala pa ang COVID-19 naglisod na silang daan.
Wala pa silay klarong padulngan samtang nagpadayon kining krisis ug bisan og matapos na kini, lisud kaayo para nila ang pagbangon kun karon palang dili sila tabangan.