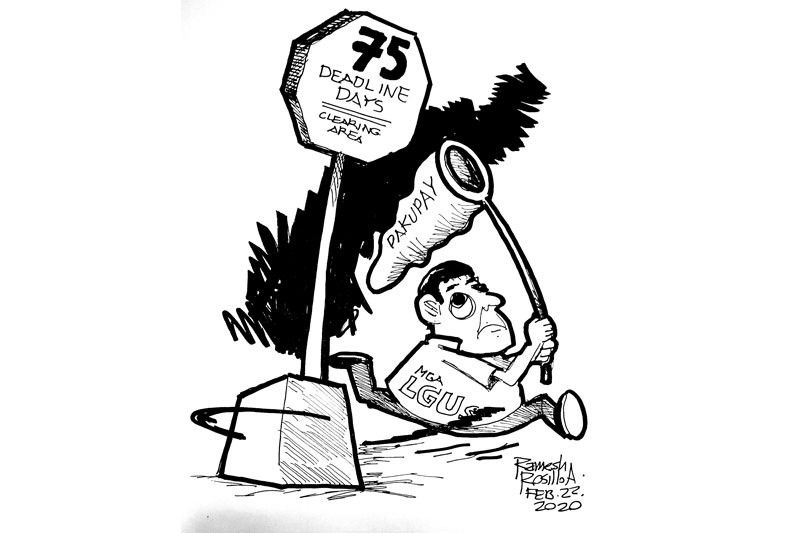 EDITORYAL - Kinaiyang "Ningas-kogon"
(Banat) - February 22, 2020 - 12:00am
Daghang mga sakyanan ug mga motorsiklo ang gipang- clamped ug gikarga sa mga sakop sa Cebu City Traffic Office gikan sa nagkadaiyang mga barangay sa siyudad, agi kini og pagtuman sa 75 ka adlaw nga ultimatum nga gihatag sa Department of Interior and Local Government.
Apan dili kalikayan nga samtang maayo ang tumong niini, daghan usab ang nakalitan ug nagbagulbol ilabi na kadtong mga tagiya sa mga motor o sakyanan nangadakpan kay nakabalda sa karsada.
Apan maayo unta og hangtud sa hangtud ang implimentasyon niini, tungod kay naila ra ba kaayo ang mga Pilipino sa kinaiyang "ningas kogon" o maayo lang sa sinugdanan apan dili na mopadayon sa unahan.
Hinuon tungod sa kagamay sa mga sakop sa CCTO dili na kinahanglang sila pay moadto aning mga barangay aron manakop. Gani dili naman gyud unta angay maabot sa punto nga dakpon o tiketan ang magpataka og parking, mahimo rang badlungon sa ilang opisyales sa barangay.
Ang pagbadlong trabaho gyud unta na sa mga barangay officials dili sa CCTO. Angay nga ang resources sa siyudad adto itutok sa mga dagkong karsada gumikan sa dagkong problema.
Sila maoy angay mangunay pagdisiplina sa ilang mga konstituwente kay ilang kaakohan ang paghapsay ug paghimong malinawon sa ilang barangay.
Unsaon nalang kun way CCTO nga mo-roving sa mga barangay, walay dakop?
Kung way dakop, makaingon ang mga tawo nga gidili lang kini kung dunay taga CCTO. Unsa pa may gamit sa mga barangay officials niana?
Sa pagkakaron, ang mayor pa sa siyudad ang na-pressure sa DILG, apan kun human niining mga pagronda sa CCTO sa mga kabarangay naa pa gihapoy mga karsadang parkingan og mga sakyanan ug motorsiklo o naalihan og mga paninda, dili na kana nila trabaho, kondili sa mga barangay officials na.
Ang barangay maoy gitawag og "nucleus of the local government" tungod kay mao kini ang kinagamayang pangamhanan sa gobiyerno.