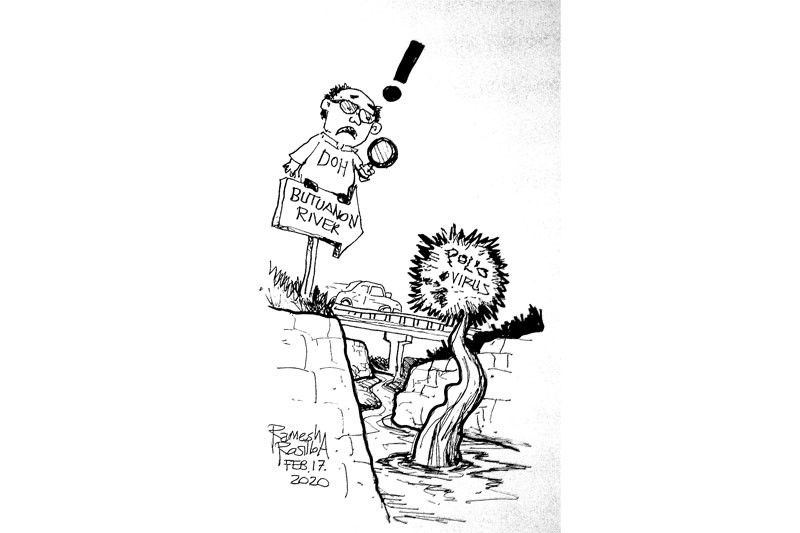 EDITORYAL - Polio angay bantayan
(Banat) - February 17, 2020 - 12:00am
Angay magmatngon ang mga residente sa daplin sa sapa sa Butuanon sa Dakbayan sa Mandaue nunot sa report sa Department of Health nga nag-ingong positibo sa poliovirus ang maong sapa.
Ang Research Institute of Tropical Medicine maoy mihimo sa eksaminasyon ug gikompirmar nila nga positibo nga dunay poliovirus ang hugaw nga tubig sa maong sapa.
Kahinumdoman nga niadtong Septiyembre sa nakalabay nga tuig naalarma ang mga tinugyanan sa panglawas human nga dunay duha mga kaso sa mga batang nataptan sa maong sakit ang usa didto sa Lanao del Sur.
Tungod niini, gideklarar nga dunay polio outbreak sa Pilipinas tungod kay ang maong sakit dugay naman untang nakontrolar tungod sa bakuna.
Tuig 1993 sa dihang dunay natalang kaso ang Pilipinas nga unta hagbay rang nadeklarar nga polio-free ang nasud. Apan ning bag-o, ang World Health Organization miingon nga wala pa mahuman ang polio outbreak sa Pilipinas.
Ning bag-o, dunay bata sa Cabanatuan City sa Nueva Ecija nga nakompirmar sab nga natakboyan sa maong sakit nga nakapaalarma pagbalik sa gobiyerno.
Ang polio usa ka "highly infectious virus" nga maoy hinungdan sa pagkaparalisar ug dunay uban nga namatay.
Ang maong sakit mapugngan tungod kay duna namay bakuna batok niini. Ang kinahanglan lang mao ang kooperasyon sa tanan ilabi na sa mga ginikanan nga sila maoy mangusog nga mapabakunahan ang ilang mga anak nga masuso.
Samtang ang mga barangay health workers kinahanglan sab nga seryosuhon ang ilang trabaho pinaagi sa pagpaabot sa mga mahinungdanong impormasyon diha sa ilang barangay.
Kinahanglan nilang bantayan og maayo ang ilang mga residente ilabi na kadtong mga kabus nga pamilya nga magpanuko pagduol sa barangay health center.
Alang sa kasayuran sa katawhan libre ang mga bakuna sa barangay health centers. Dili unta paabuton sa mga ginikanan nga maigo na sa maong virus ang ilang mga anak ayha pa sila moduol sa mga health centers tungod kay kaugmaon ug kinabuhi ang naa sa peligro niining sakita.