EDITORYAL - Migrant workers way proteksyon
January 5, 2020 | 12:00am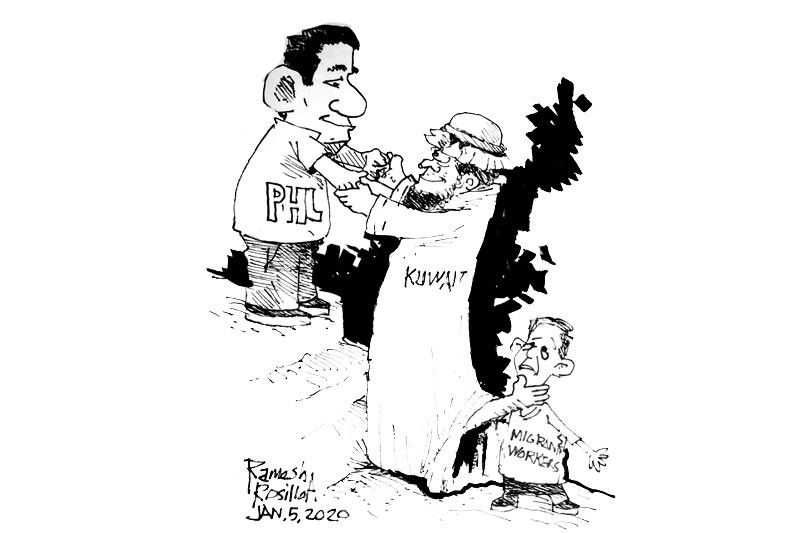 Kinahanglang mohimo og aksyon ang gobiyerno sa Pilipinas batok sa pagpabaya sa gobiyerno sa Kuwait nga protektahan ang migrant workers nato didto.
Ning bag-o lang, giingong gipatay sa agalong babaye si Jeanelyn Villavende.
Dili lang kini maoy unang higayon nga gipatay sa agalon ang Filipina domestic helper. Duha ka tuig na ang nakalabay sa dihang gipatay sab sa kulata ug gisud sa freezer ang lawas sa babayeng Pinay.
Niadtong bulan sa Mayo sa miaging tuig, duna sab laing Pinay domestic helper ang napalgang patay ug nakita sa lawas niini nga kini gibun-og ug may timailhang gilugos. Ang gobiyernong Duterte ug Kuwait nipirma og kasabotan nga siguraduhon sa maong nasud ang proteksyon sa mga migrant workers didto, apan daw kutob lang kini sa papel. Kinahanglang dili isangon sa Pilipinas ang pagpanalipod sa mga migrant workers niini didto sa Kuwait.
Tungod kay dili man mahimong silotan sa Pilipinas ang Kuwait gawas lang sa pag-pressure kanila aron sikopon ug lutoson ang mga responsable aning kamatayon sa mga Filipina domestic helpers didto, mahimong sila mismo ang mopakita nga wala pasagdi ang maong mga mamumuo.
Nindot man tuod paminawon ang planong temporary o limitadong pag-ban na sa deployment sa mga migrant workers didto dili kini maoy solusyon.
Gawas pa niini, mabutang sab sa peligro ang mga nabiling OFWs didto nga nagtiwas pa sa ilang mga kontrata. Ang labing maayong buhaton sa Pilipinas mao ang pabuhat sa nagkadaiya niining ahensya sama sa Department of Foreign Affairs, Department of Labor and Employment, Philippine Overseas Employment Administration ug Overseas Workers Welfare Administration sa ilang tahas.
Kinahanglang mag-monitor sila sa kahimtang sa mga gi-deploy nga migrant workers didto. Dili kay anha ra sila maningog kun duna nay nahitabo.
Pinaagi niini, mataha ang ilang employers paghimo og binuang kanila. Dili maayong tungod sa pagpangita og mas maayong sweldo mabutang sa peligro ang kinabuhi sa mga Filipino migrant workers didto sa ubang mga nasud.