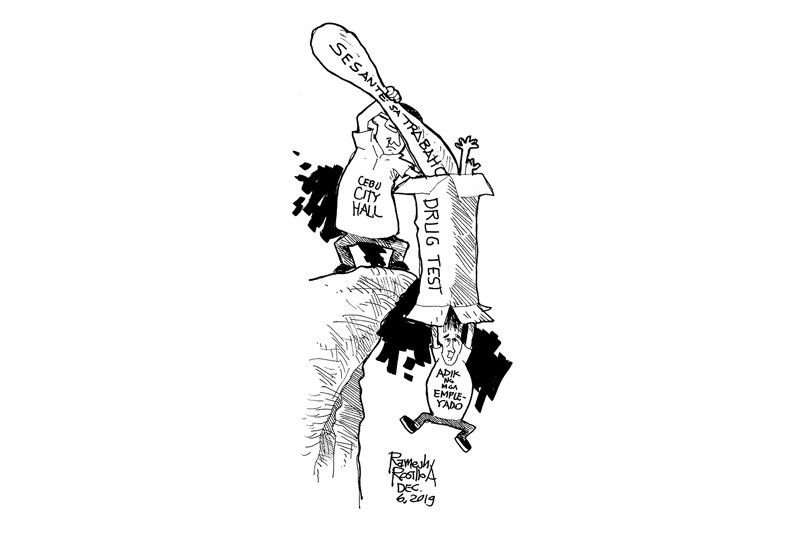 EDITORYAL - Tinuyoang kaparotan
(Banat) - December 6, 2019 - 12:00am
"I'm going to fire all of them." Pamahayag ni Cebu City Mayor Edgardo Labella bahin sa 42 ka mga kawani sa dakbayan nga napositibo sa drug test nga gipahigayon sa City Office for Substance Abuse Prevention (COSAP).
Ang COSAP nagpahigayon niini sugod niadtong Nobiyembre 8 ning tuiga. Dose ka mga departamento ang nasakpang dunay mga tiggamitan og legal nga drugas, apil na ang usa gikan mismo sa buhatan sa mayor.
Ang kampanya batok illegal nga drugas dili na bag-o sa gobiyerno. Ug dili na angay ikahibulong kun nganong adunay mga kinalitkalit nga drug test sa mga empleyado sa gobiyerno, ug dili exempted niini ang Cebu City Hall workers.
Ang pamahayag ni Labella makatarunganon lang isip maoy amahan sa siyudad. Siya maoy una gyung mopitol sa mga magpabadlong nga mga kawani sa dakbayan.
Syaro naman, kadugay na aning kampanyaha ug nakita nga subsob gyud ang COSAP sa paghimo sa ilang tahas pag-monitor ug pagpangita aning mga kawaning tiggamitan og illegal nga drugas.
Gani pila naman ka mga kawani sa Cebu City Hall ug sa kabarangayan ang nangataktak sa panahon pa ni kanhi mayor Tomas Osmeña. Nagpakita lang nga tinuod ug seryuso gyud ang kampanya.
Apan naa lang gyuy mga tawong gahi gyud og ulo nga gusto gyung hagiton ang otoridad ug ang mga gitahasan paghimo sa kampanya.
Karon niresulta na. Dunay daghang nangasakpan ug taktakonon na hinuon sa trabaho, kuyaw pang mapriso samtang nagsingabot ang Pasko. Unya ang pangutana, maayo na para sa inyong pamilya?
Husto ang desisyon ni Labella, bahala'g kinsa pay 'kapit' aning maong mga kawaning adis-adis nga nakapasulod kanila og trabaho diha sa city hall, kinahanglang taktakon gyud sila sa ilang trabaho.
Tinuyoan kini, way laing rason kun nganong nasulod sila sa maong sitwasyon. Busa, kadtong mga wala pa nangasakpan, mas maayong magbag-o na ug magampong dili maoy matungnan sa drug test.