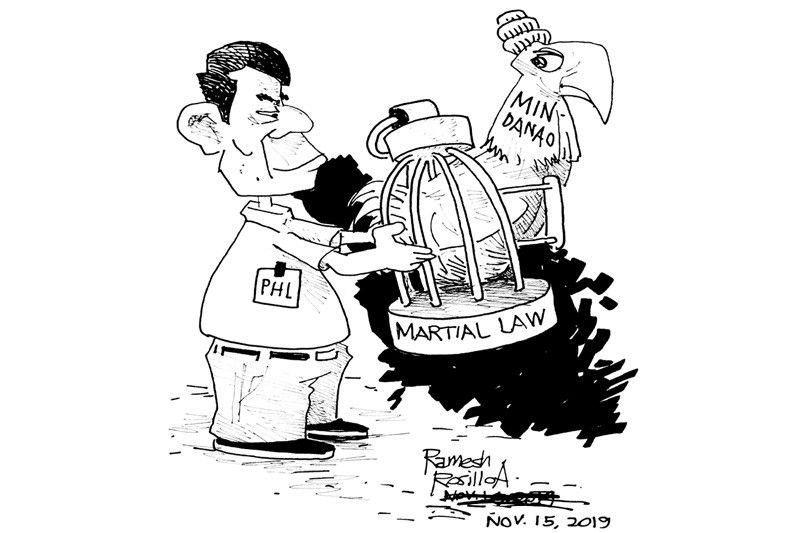 EDITORYAL - Paglibkas sa martial law
(Banat) - November 15, 2019 - 12:00am
Miarang-arang ug kontrolado na sa Philippine National Police ug sa Armed Forces of the Philippines ang seguridad ug sitwasyon didto sa Mindanao sukad nga gipaubos ang maong isla sa martial law niadtong Mayo 2017.
Si Department of National Defense Secretary Delfin Lorenzana miingon nga sa iyang tan-aw nabalik na sa normal ang sitwasyon didto sa Mindanao ug kun siya maoy pabut-on mahimo ng dili lugwayan og dugang usa pa ka tuig ang martial law sa lugar.
Si Pres. Duterte mideklarar og martial law tibuok Mindanao human giatake sa mga teroristang ISIS ang Marawi City nga niresulta sa lima ka buwang giyera didto ug nakaingon sa pagbakwit sa kapin 300 mil ka mga molupyo didto ug pagkagusbat sa maong siyudad nga hangtud karon wapa pa gihapon mabalik sa ilang mga pinuy-anan.
Ang AFP aduna hinuoy gamay nga pagduhaduha tungod bisan giangkon sa ilang labaw nga si Gen. Noel Clement nga gikonsiderar na nila nga duna nay kausaban sa seuridad, may pipila ka mga lugar pa gyud nga kinahanglang pabiling ipaubos sa martial law.
Nakita sa AFP kining kalit na sab nga pagsiaw sa mga hulga gikan sa Abu Sayyaf kansang grupo aduna nay mga kaalyadong mga langyaw nga terorista. Gusto ni Clement nga mohimo pagbalik og pagsusi sa seguridad ug makigestorya sila sa mga local officials kun uyon pa ba sila og extension sa martial law.
Hinuon mahimong libkason na kini ug mahimo sab nga ipabilin sa pinili nga mga lugar sama sa mga dapit nga diin nagbase ug nag-operate kining mga terorista sama sa Lanao del Sur, Sulu, Sultan Kudarat, Maguindanao ug uban pa. Dili ikalimod nga posibleng tungod sa martial law napugngan gyud ang pagpangatake ug uban pang mga kalihokan sa mga criminal sa Mindanao.
Ang kalainan lang kun libkason na ang martial law, mabalik ang gahom sa civilian authorities, dili na mahimo ang mga warrantless arrest.
Libkason man o dili kinahanglang magpabiling igmat ug magpakabana ang publiko para sa seguridad.