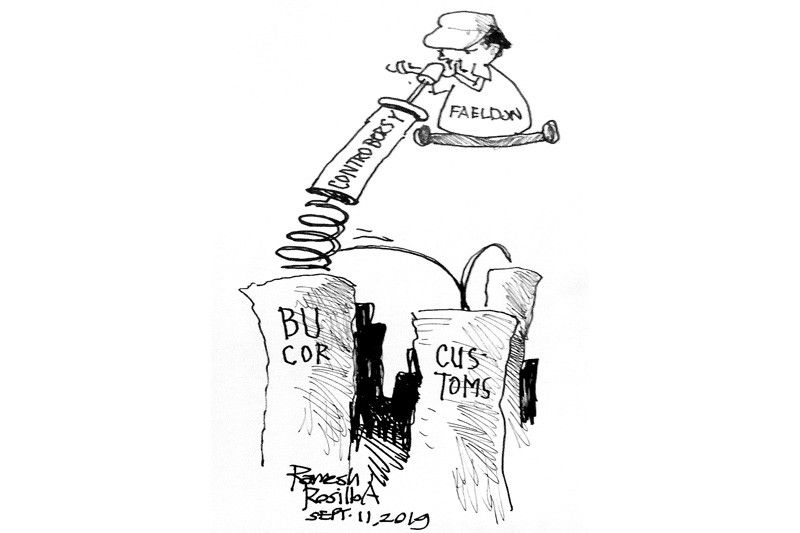 EDITORYAL - Batobalani sa kontrobersiya
(Banat) - September 11, 2019 - 12:00am
Daw batobalani sa kontrobersiya ang kanhi Marine captain nga si Nicanor Faeldon kinsa gibalhinbalhin nalang og pwesto ni Pres. Duterte apan pirme gyung masugamak.
Karong bag-o sobra pa sa nakamata kondili nakadesisyon na gyud ang pangulo nga husto na, dili na niya hatagan og laing pwesto sa mga ahensya sa gobiyerno si Faeldon, apan pabilin ang iyang pagsalig sa naulahi kay di siya motuo nga bakakon kini.
Kini human sa uwahing kontrobersiya nga nahatag na sab ni Faeldon sa administrasyon bahin sa kontrobersiyal nga good conduct time allowance law (GCTA) sa dihang si Faeldon pay hepe sa Bureau of Customs (BuCor).
Si Faeldon sab ang hepe sa Bureau of Customs dihang nakalusot ang P6 bilyones nga shabu sa adwana, hinungdan nga gitangtang siya ug gibutang sa Office of Civil Defense ug pagkahuman sa BuCor.
Apan sa BuCor dul-an dos mil ka mga kombiktado sa bangis nga mga krimen ang iyang gipabuhian pinaagi sa kontrobersiyal nga good conduct time allowance (GCTA) law. Kun buot huna-hunaon dili makatarunganon nga ibasol kang Faeldon ang sayop, kondili mismo ang maong balaod nga daghan og buslot maong malutsan.
Gani bisan ang pasidaan kaniya ni Duterte nga di pabuhian ang mga kriminal nga nakombikto sa mga bangis nga krimen, iyaha gihapong gipatuman kun unsay naa sa GCTA, butang nga gikasagmuyo sa katawhan ug ni Duterte.
Kun tinuod ang pagduda ni Duterte nga posibleng dunay kurapsyon nga nalambigit sa BuCor ug nakalusot kini kang Faeldon, maayong tanang mga nalambigit sa proseso sa pagpagawas sa mga kombiktado ipaubos sa imbestigasyon.
Mahimo man gud nga si Faeldon igo rang nipirma sa mga release orders apan gimaniobra ra diay sa mga sakop niini sa ubos. Kung ang presidente kinsa usa ka kanhi prosecutor nakaingon nga daghang interpretasyon ang maong balaod, mas maayong ang Korte Suprema nalang gyud maoy pasultihon sa hustong paghubad niini.
Apan pagkakaron, pagan na sab si Faeldon. Hinuon makaayo kini para kaniya ug para kang Duterte nga di na siya hatagan og laing pwesto sa gobiyerno.