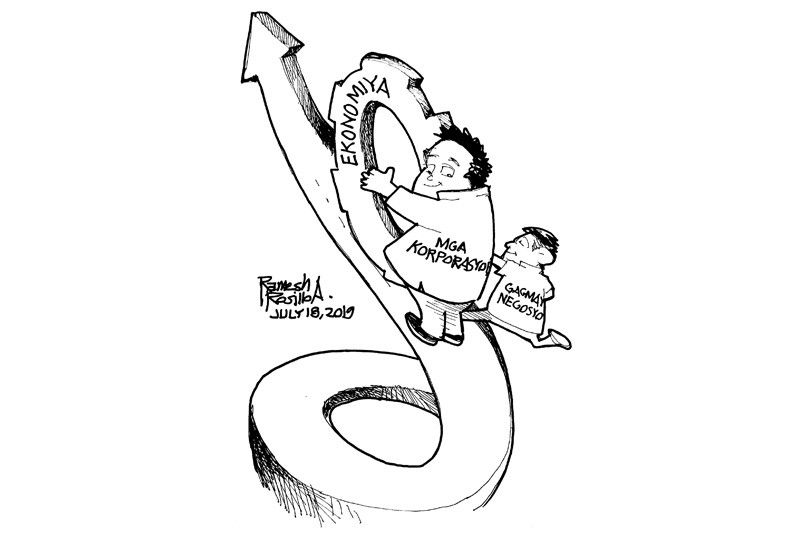 EDITORYAL - Kaakohan sa street vendors
(Banat) - July 18, 2019 - 12:00am
Usa sa mga timailhan nga baskog ug buhi ang ekonomiya sa lugar ang presensya sa komersyo. Apan ang komersyo dili lang tungod sa mga dagkong malls o mga establisamento ug mga merkado kondili hasta sab mga ginagmay nga mga tindahan diha sa kadalanan.
Ang pagpaninda sa kilid sa mga karsada panahon pa sa unang sibilisasyon nagsugod. Tungod sa mga paninda sa kadalanan daghang mga langyaw o mga taga lagyong dapit ang modayo sa usa ka dapit aron maninda sab o mangompra ug kadugayan nilambo ug nidako hangtud nahimong lungsod, siyudad ug metropolis ang usa ka barrio. Gikan niini sab makakolekta ang tagdumala sa komunidad og buhis aron imentinar sa mga karsada ug seguridad.
Ang Konstitusyon nag-ingon nga ang estado mohimo og mga palisiya ug dasigon ang katawhan nga makanegosyo aron sila moasenso ug mahaw-as gikan sa kakabus basta sa tinarong ug makiangayon ang pamaagi.
Kinahanglang dunay mga palisiya nga makahatag og oportunidad sa katawhan nga makaangkon og panginabuhian pinaagi sa ilang kaugalingong paningkamot.
Apan kinahanglan nga ang mga vendors dili mag-abusar sa maong palisiya hinungdan dunay mga regulasyong gihimo ang mga local government units nga kinahanglang sundon.
Apan bisan duna nay mga regulasyon daghan gihapong mga vendors ang wala mosunod niini. Dunay mga bentahoso, hakog ug labaw sa tanan pataka'g labay ug dili manghipos og mga basura diha sa ilang tungod.
Rason nga usahay giisip silang mga samok sa karsada, nakababag sa traffic, mga hugawan ug uban pang bati nga paghulagway.
Angay unta nga isip nanginabuhi sa kadalanan, mosunod sila sa mga regulasyon, dili estorbo sa dalan ug motampo sa ekonomiya sa dapit.
Base sa Article 694 (sections 1 and 4) ug Article 699 sa New Civil Code of the Philippines, mahimo silang abugon kun nakasamok sila sa lugar diin sila naninda busa di maayong moabusar.