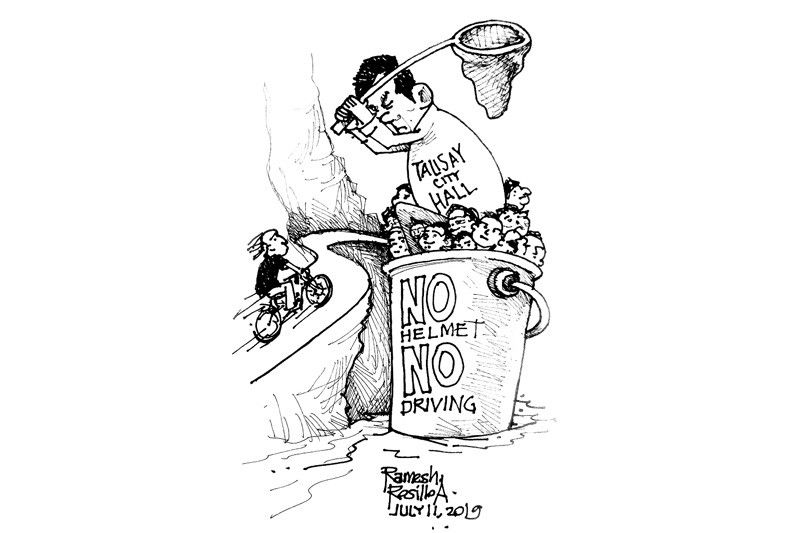 EDITORYAL - Political will ni Gullas
(Banat) - July 11, 2019 - 12:00am
Seryoso diay. Mao kini ang reaksyon sa mga motorista sa Dakbayan sa Talisay sa pag-estrikto sa implimentasyon sa mga traffic laws ug ordinances sa siyudad human daghan ang nangadakpan ug nakamulta.
Maayo kining gihimo ni Mayor Gerald Anthony "Samsam" Gullas nga estriktohon ang "No helmet, no driving" ug uban pang mga paglapas sa Traffic Laws kay pagpakita kini nga duna siyay "political will."
Gipakita ni Gullas nga 'concern' siya para sa mga motorcycle riders nga wala magpakabana sa ilang kaluwasan. Dunay uban mogamit ra og substandard helmets nga di makapakgang sa grabeng impact sa aksidente.
Dili lamang sa basta-bastang helmet ang kinahanglang suoton kondili kadto gyung standard protective motorcycle helmets nga pasado sa espisipikasyon sa Department of Trade and Industry subay sa mga probisyon sa Republic Act 10054.
Base sa report sa World Health Organization (WHO) Philippines niadtong 2018, nakatala sila og 11,264 nga namatay sa aksidente sa kadalanan dinhi sa nasud. Ang 5, 970 niini namatay tungod sa motorsiklo ug traysikol.
Niadtong 2016, miabot og 28,694 ka tawo ang nangaangol tungod sa motorsiklo. Samtang nianang tuiga 696 lamang ang naangol sa awto, 290 sa mga bus samtang sa traysikol niabot og 2,658.
Sa Facebook sa WHO Philippines sila nagkanayon dunay 60 porsiyentong tsansang dili mamatay ang rider ug 70 porsiyento nga malikay sa grabeng pagkaangol kun sila magsuot og protective helmets.
Gani swerte pa gihapon ang mga nangadakpan tungod kay City Ordinance lamang ang gipahamtang kanila tungod kay P300 ra ang multa niini.
Kun ang LTO ang makasakop P3 mil ang multa sa unang pagkasikop, P5mil sa ikaduha ug sa ikatulong paglapas P10 mil ug kompiskahon ang lisensya.
Angay ibutang sa alimpatakan sa mga motorista nga ang ilang driver's license dili katungod kondili, usa lamang ka prebilihiyong gihatag sa gobiyerno sa kondisyon nga mosunod sila sa mga lagda sa trapiko.