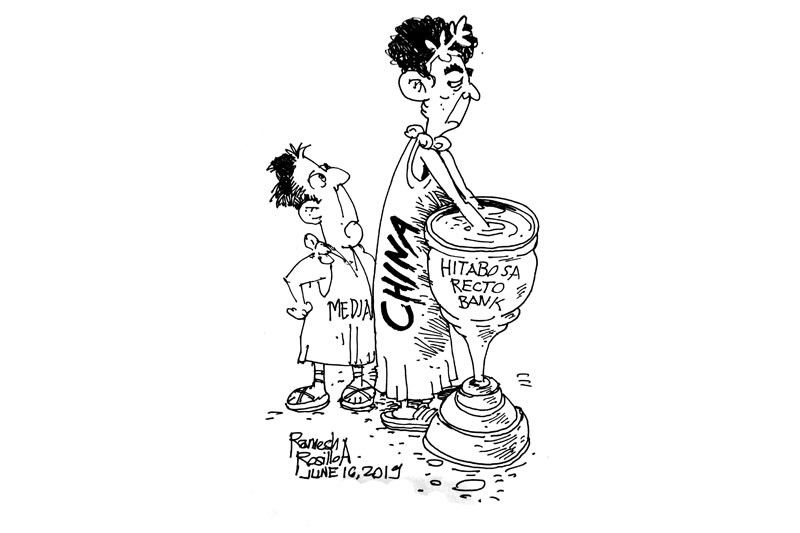 EDITORIAL - Bakak sa China
Giangkon, pagkahuman gitangtang ang statement sa China bahin sa pagdasmag sa ilang barko sa panagatan sa mga Pilipino didto sa Recto Bank sa West Philippine Sea.
Gi-post sa Chinese embassy ang ilang pamahayag nga usa sa ilang mga panagatan ang nakadasmag sa mga Pilipino, apan paglabay lang sa pipila ka oras gitangtang ang post nga walay eksplinasyon kun ngano.
Nahitabo kini samtang ang mga opisyales sa Department of National Defense, Department of Foreign Affairs ug Malacañang wala magkasinabot sa ilang komento mahitungod sa nahitabo.
Miinsister pa gyud ang embahada sa China nga dili hit and run ang nahitabo kay ang ilang pasangil sila maoy gihasi sa pito ngadto sa walo ka mga fishing boats sa mga Pilipino.
Sa suway nila pagikyas nadasmagan nila ang usa ug nalunod. Luwason unta nila ang mga crew apan nabalaka silang basin kuninitan sila sa ubang panagatan sa mga Pilipino didto. Dihang nakita nila nga giluwas sa mga kauban ang mga tripulante ayha pa sila miikyas. Katuohan ba ni ilang estorya?
Sukwahi kaayo ang ilang pamahayag sa pamahayag sa 22 ka survivors nga unom ka oras nga naglutaw-lutaw sa dagat ayha pa na-rescue sa Vietnamese fishing boat nga maoy naghatud kanila pabalik sa Palawan.
Ang mga survivors miingon nga human sila gibanggaan mibalik ang mga Chinese ug gipasigahan sila og daghang suga ug pagkahuman gipawong kini ug mibiya sa lugar. Dili ba ang China man maoy kinadaghanan og fishing boats karon sa WPS? Mga Pilipino moalirung sa ilang barko?
Daghan na ang nagduda nga kining gatosan ka mga panagatan sa China diha sa WPS gamiton sa gobiyerno sa China aron manghasi didto.
"Low intensity" ra kun panagatan ra ang mobangga og laing panagatan inay nga barko sa navy o sa coastguard.
Apan lupigon man ang mga Pilipino kay ginama ra man sa kahoy ang ilang bangka samtang ang sa China ginama sa puthaw. Naghilom lang gihapon si Pres. Duterte bahin ani.