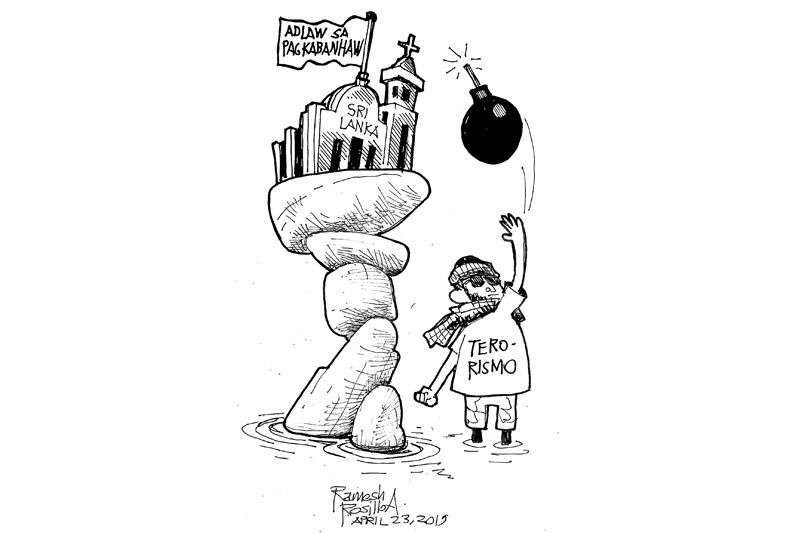 EDITORYAL - Padayong hulga sa terorismo
(Banat) - April 23, 2019 - 12:00am
Gibombahan sa mga gidudahang terorista ang pipila ka mga simbahan ug mga hotels didto sa nasud sa Sri Lanka atol sa Domingo sa Pagkabanhaw nga gikamatay sa dul-an 200 ug nakaangol og kapin 400 ka mga tawo.
Ang maong pagpangatake gikondenar ni Pope Francis ug sa uban pang mga lider sa kanasuran sa kalibotan.
Gihulagway kini sa gobiyerno sa Sri Lanka nga pag-atake nga buhat nga tinalawan ug misaad nga pangitaon ang nagbuhat niini.
Ang Pilipinas duna say kasinatian nga susama niini. Pipila pa lang ka buwan ang nakalabay dihang gibombahan sab sa mga gidudahang teroristang Abu Sayyaf ang cathedral sa Basilan diin daghan sab ang namatay.
Kining tanang mga pagpamomba nga binuhatan sa nagkalain-laing lokal nga mga teroristang grupo sa mga nasud nga giatake, maisip nga inawas kini gikan sa Midde East diin ang tanan magsugod ang terorismo ug radikalismo.
Didto sa Syria ug Iraq nagsugod ang gikasilagang Islamic State of Iraq and the Levant (ISIL) nga nahimong Islamic State of Iraq and Syria (ISIS) kansang propaganda nakaagni sa mga kabataang adbenturero gikan sa nagkalain-laing mga nasud aron makig-abin sa ilang kawsa. Pinaagi sa sayop nga pagsabot sa pagtulon-an sa Islam na brainwash na hinuon sila pagka-radikal ug panatismo. Apan tungod sa kaparotan sa ISIS didto sa Middle East, namauli sa ilang tagsa-tagsa ka mga nasud ang mga nakaikyas ug sila karon maoy gibantayan sa mga nasud diin sila namauli.
Sama sa nahitabo kaniadto sa Marawi City may pagkulang ang katilingban sa pagbantay sa ilang tugkaran hinungdan nga nakabuwelo ang Maute gang ug ang ASG ug giguba ang maong makasaysayanong siyudad.
Way laing makapakgang kanila kondili ang kooperasyon gihapon sa mga tawo diha sa mga probinsya diin magagikan kining mga tawhana.
Angay hinumdoman sa katawhan nga molampos lamang ang mga dautan kun ang mga tarong walay buhaton batok kanila.