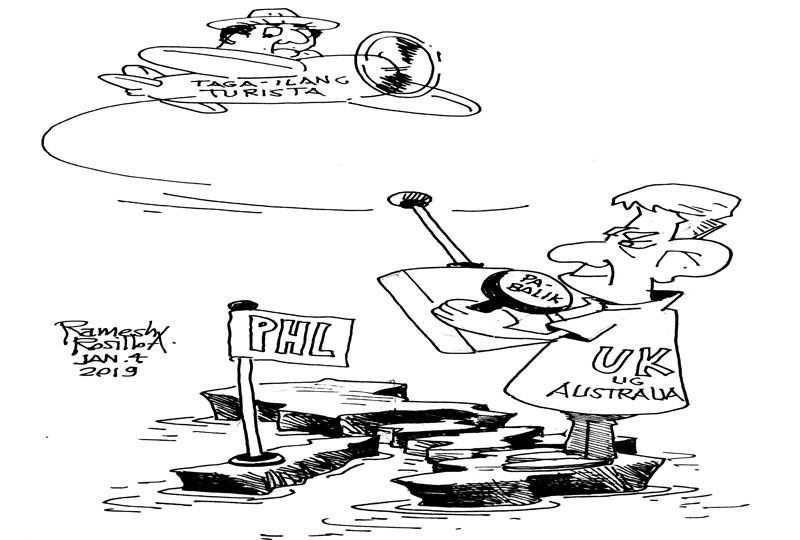 EDITORYAL - Travel Advisory vs PHL
(Banat) - January 4, 2019 - 12:00am
Gibutang na sab sa listahan sa mga kuyaw bakasyonang nasud ang Pilipinas alang sa mga molupyo sa United Kingdom ug Australia nunot sa hulga sa terorismo.
Ang UK ug Australia mipasidaan sa ilang mga tawo nga peligrong suroyan ang Mindanao ug mao usab ang sa Australia.
Apil sa ilang gibutang sa advisories ang Palawan ug Central Visayas ilabi na ang probinsya sa Sugbu.
Ang maong advisory nigawas human sa nahitabong pagpamomba didto sa atubangan sa usa ka department store sa Cotabato City niadtong bisperas sa Bag-ong Tuig nga nikalas og usa ug kapin sa 20 ka tawo ang naangol.
Ang Cotabato City abutanan sa halos tanang tribu sa mga Muslim sa Mindanao kauban ang mga Kristiyano gikan sa nagkadaiyang tribu tungod kay sentro kini sa komersyo.
Kini nahitabo bisan pa man sa extension sa deklarasyon sa Martial Law sa tibuok isla sa Mindanao.
Ang rason sa Armed Forces of the Philippines ug Philippine National Police nga kinahanglan kining Martial Law aron mapadayon ang 'economic gains' sa maong isla sukad nga napahugtan ang seguridad didto.
Apan mikisikisi ang gobiyerno sa advisories sa maong mga nasud kay nganong giabanid man ang tanang probinsya sa Mindanao ug gani naapil pa ang pipila ka mga lungsod sa habagatang bahin sa Sugbo.
Duna silay rason pagbuhat niini tungod kay aduna nay mga citizens nila kaniadto nga na-kidnap sa mga Abu Sayyaf didto sa Mindanao ug may nahitabo sab sa Bohol nga layo na kaayo sa Mindanao apan nasudlan gihapon sa mga Abu Sayyaf.
Nakalimot tingali ang mga opisyales sa Pilipinas nga may katungod ug kaakohan sa gobiyerno sa maong mga nasud ang seguridad sa ilang mga katagi-nasud.
Normal lang kini para sa usa ka gobiyerno nga pasidan-an ang ilang mga tawo aron sila malikay sa peligro. Busa mas maayong mohilom nalang unya tarungon ang seguridad.