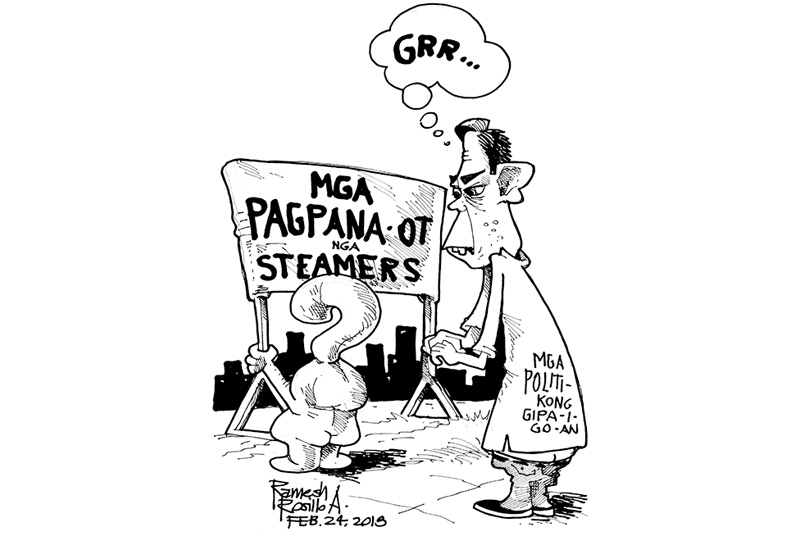 EDITORYAL - Mensahe sa streamers
Naukay kagahapon ang katawhan diha sa habagatang bahin sa dakbayan sa Sugbo tungod niadtong streamers nga gipangtaud daplin sa karsada nga nagpakita sa hulagway nila ni kanhi mayor Michael Rama ug sa gipangpatay nga sila si Albuera mayor Rolando Espinosa ug Atty. Jonnah John Ungab. Wala unta kadto'y bati nga kahulogan kon wala pa pamutangi og puwa nga ekis ang mga nawong nila ni Espinosa ug Ungab, samtang ang kang Rama gibutangan og lingin ang nawong ug sa tupad niini may pulong nga kini "maoy sunod."
Ang maong hulagway nakuha kadto dihang nanumpa si Espinosa isip sakop sa partido sa United National Alliance (UNA) diin si Rama maoy regional leader dinhi sa Central Visayas. Si Ungab nga bise mayor sa lungsod sa Ronda, Cebu mao ang abogado sa anak ni Espinosa nga si Kerwin bahin sa mga kaso niining giatubang, lakip ang sa ilegal nga drugas. Si Mayor Espinosa napatay sulod sa prisohan niini sa gihimong raid sa mga sakop sa CIDG. Samtang si Ungab gipatay atubangan sa City Hall of Justice sayo kaniadtong Lunes human mitambong sa pagbasa sa hukom sa kaso ni Kerwin.
Si Rama apil sa mga gipasanginlan ni Presidente Duterte nga matud pa nalambigit sa ilegal nga drugas, butang nga hangtud karon gihimakak sa kanhi mayor ug gipaningkamotan niini nga malimpyohan ang iyang pangalan. Wa'y nasayod kon kinsa ang nagbutang sa maong streamers, apan tataw kaayo nga dili maayo ang gipasabot niini. Duna may due process ug rule of law, kon tinuod man nga may nahimo silang salaod, nganong dili man kini maoy gamiton?
Ang pagbitay sa maong mga streamers nagbunga og kabalaka ngadto kang Rama ug nakapasagmuyo sa pamilya nila ni Espinosa ug Ungab. Wa'y gusto sa ilegal nga drugas ug wa'y ginikanan nga gustong maguba ang kaugmaon sa ilang mga anak, ug sa umaabot nga henerasyon, apan dili unta ipaagi sa pakusog.