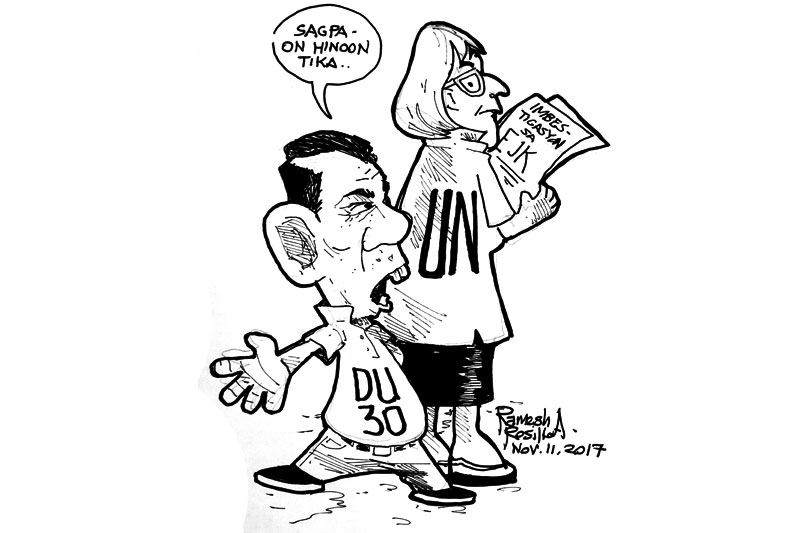 EDITORYAL - Panganti ni Duterte
Makapanghupaw ang mga magsunod kang Presidente Duterte niining iyang bag-o na usab nga panganti sa opisyal sa United Nations gumikan sa talagsaon niyang kinaiya nga dili haum sa naandang sistema sa natad sa diplomasya sa kalibutan. Ning bag-ohay lang, gibaharan ni Duterte nga iyang sagpaon si United Nations Special Rapporteur on extrajudicial, summary or arbitrary executions Agnes Callamard kon moinsister kini nga paimbestigahan siya tungod sa iyang war on drugs.
Literal ba kini nga sagpa pinaagi sa pisikal nga pagpanapat? Ang kasuko ni Duterte nagumikan sa UN report nga giulohan og "International Narcotics Control Board Precursors and Chemicals Frequently Used in the Illicit Manufacture of Narcotic Drugs and Tropic Substances 2014?" May punto si Duterte , kay matud ni Callamard nga gikutlo sa usa ka TV report kaniadto sa ilang interbyu nga kini nag-ingon nga dili makadaot ang shabu, wa sa'y nasayod kon tinuod ba pud ni nga iyaha kining gipamulong.
Sa UN Report, gihulagway ang shabu nga makaapektar sa hunahuna sa mga nigamit niini hinungdan nga sila agresibo ug bayolente. Ang pag-insister ni Duterte sa iyang baruganan maayo, apan lahi na kon iyaha na nga pakapinan og personal nga pag-atake sa usa ka indibidwal, sama sa usa ka opisyal sa UN sa pagkatawo ni Callamard. Wala man siguro kinahanglana ang maong mga pulong para ipasabot ang iyang buot ipasabot. Nahadlok ba si Duterte nga basin sa kadugayan maipit siya?
Dili ba siya may miinsister nga iyang duphan ang mga polis kon aduna sila'y mapatay sa "lehitimong" anti-illegal drugs operations? Ang kwestyon karon, "lehitimo" ba ang pagkapatay sa mga drug suspects? Makapahibulong kaayo kay wala man magduda si Duterte sa mga nahitabo nga pwerteng daghana sa nangamatay. Dili mabasol ang UN ug bisan ang mga human rights group nganong nakakuwestiyon sila bahin niini, ilabi na nga pirmeng mogawas sa baba sa presidente kining bayolenteng mga pulong nga daghan diay og kahulogan para niya.