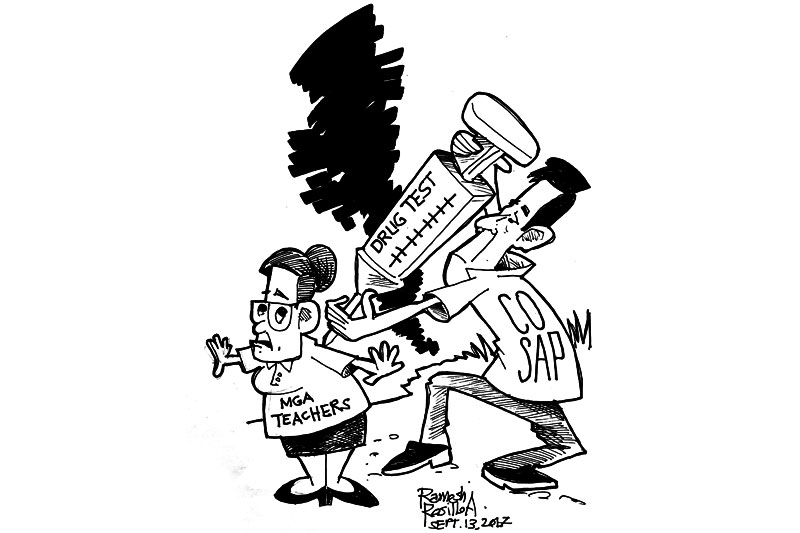 EDITORYAL - Mga magtutudlo adik ba sab?
Daghan ang nakadayeg niining lakang karon sa Cebu City Office for Substance Abuse Prevention (COSAP) sa pag-drug test sa mga magtutudlo, apil ang mga kawani, sa lainlaing publikong tunghaan dinhi sa siyudad.
Ikaduha ka adlaw kagahapon nga ang mga sakop sa COSAP mipahigayon og drug test sa mga magtutudlo. Una ang 41 ka magtutudlo ug lima ka non-teaching personnel sa Regino Mercado Elementary, ug Night High School.
Kagahapon, 70 na usab ka magtutudlo ug lima ka non-teaching personnel sa Alaska-Mambaling Elementary School ang gipakalitan og drug test sa COSAP. Ang pagpili kon unsa nga tunghaan ang himoan sa drug test ipaagi sa raffle, nga ang mga opisyal sa DepEd ug COSAP mobunot og usa kada adlaw.
Nabantayan hinoon nga mainampingon kaayo ang COSAP sa pagbutyag sa resulta sa drug test, kay ipaagi gayud kini nila sa labing dakong opisyal sa Department of Education (DepEd) dinhi sa dakbayan. Apan wala'y angay'ng kabalak-an ang publiko, kay si DepEd City Superintendent Bianito Dagatan mao man gani ang nag-awhag og drug test sa mga magtutudlo.
Tukma lang kining gihimo sa COSAP ug DepEd tungod kay kaniadto pa nga nadungog nga adunay mga magtutudlo, ilabi na sa mga nagdumala og night high schools, nga mao ra usab ang mamaligya og drugas. Kon kini tinuod, hayan nga mosuyop usab og drugas ang maong magtutudlo.
Isip mga magtutudlo ug ikaduhang ginikanan sa kabataang tinun-an, sila gayud unta maoy magsilbi nga ehemplo sa katarong ngadto sa mga bata, apan kun sila ang mangulo sa paghimo og daotan, dili sila angay nga padugayon sa ilang katungdanan.
Kinahanglan nga ang COSAP mopaspas pa g'yud sa ilang kampanya ug si Dr. Dagatan mohimo og tininuod nga pagsilot sa mga nakahimo og salaod. Hinoon, dili usab hikalimtan nga angay'ng hatagan g'yud og "due process of law" ang mga magtutudlo.