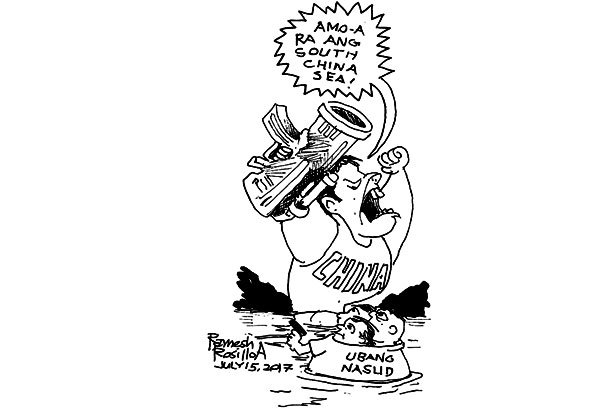 EDITORYAL - Asa kutob ang diplomasya
Dili pa lang dugay, ang China mibahad nga makiggiyera kini ni bisan kinsang mga nasud nga moinsister sa pagangkong sa South China Sea.
Nagpasabot kini nga apil ang Pilipinas sa maong mga nasud nga ilang gibaharan, apan wala lamang kini pangalani ug wala usab hatagi og gibug-aton sa administrasyong Duterte.
Gani mismo ang mga opisyales sa Department of Foreign Affairs wala ra mokihol sa maong pamahayag.
Apan dili unta kini maoy angay nga mahitabo. Sa diplomasya dili kinahanglang manghulga sa uban.
Kay kon ingon niini ang buhaton sa mga nasud,pirme gyung magkagiyera.
Dili kinahanglang tubayan sa mga nasud ang bahad og laing bahad apan mangutana kon unsay gipasabot sa maong bahad.
Usa pa, ang China nasayod nga dili kini tubayan sa mga gagmay nga silingang nasud. Mahimong padungogdungog ra apan di gyud direkta.
Ang US wa man nangangkon og teritoryo sa West Philippine Sea gawas lang sa freedom of navigation nga dili nila gustong mabalda. Apan klaro kaayong usa kini sa gibaharan
Sa pagkakaron, dili pa kayahon sa China ang US bisan pa sa nakab-ot nilang advancement sa teknolohiya. Kuwang pa kini kung gusto nilang makabenepisyo sa kadaugan kun mahitabo gyud nga magkagiyera silang duha tungod sa SCS.
Si Duterte mipili sa posisyon nga makaduwa taliwala niining duha ka higanteng mga nasud.
Way komprontasyon apan nagpabilin ang mensahe nga di ihatag ang mga teritoryo sa nasud.
Sa pagkakaron, maayo ang estratehiya sa presidente, apan iyaha untang bantayan nga aduna kini epekto sa umaabot nga panahon ug siguradong di malipay ang mga tawo.