Petisyon sa umento sa suholan giduso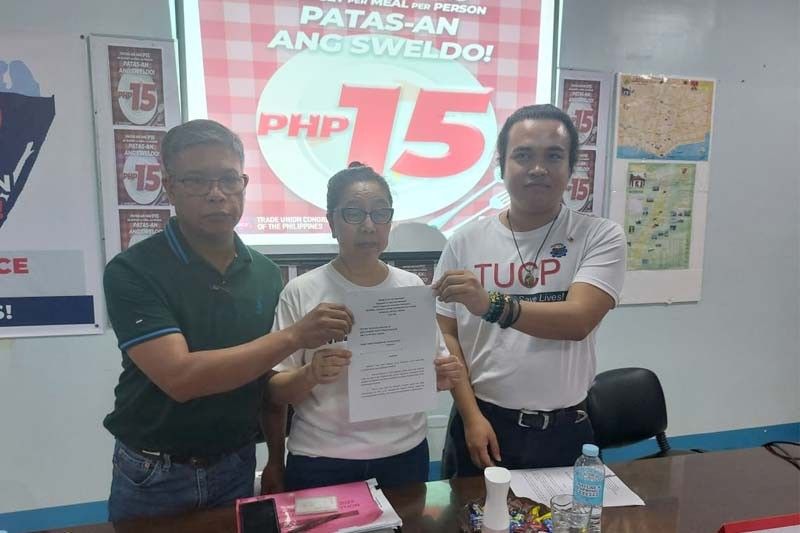 CEBU, Philippines — Duha ka labor groups ang niduso og petisyon aron mangayo og umento sa suholan nunot niining padayong krisis nga nakaapektar sa tanan tungod sa pagsaka sa presyo sa produktong petrolyo.
Nangayo karon og P430 matag adlaw nga umento sa sweldo alang sa mga trabahante sa Central Visayas ang Trade Union Congress of the Philippines (TUCP) ngadto sa Regional Tripartite Wages and Productivity Board sa Central Visayas (RTWPB-7.
Matud ni TUCP representative Raymond Democrito Mendoza nga duha na ka tuig ang nilabay sukad nga gitugot sa RTWPB ang P18 nga umento sa sweldo sa trabahante sa Central Visayas niadtong Enero 2020 ug sulod sa maong katuigan daghan na ang nahitabo.
Matud niya nga ang P404 nga kasamtangang daily wage "ubos pa kaayo sa panginahanglan" sa pamilya.
"Ang hangyo sa TUCP tagai intawon og hustong sweldo, ayaw sad tawon na nga ubos poverty threshold," matod ni Mendoza.
Kagahapon pormal nga giduso sa TUCP ang petition niini ngadto sa RTWPB-7.Kun aprobahan sa RTWPB-7 ang petition sa TUCP, gikan sa P404, mahimo na nga P834 matag adlaw ang sweldo sa mga trabahante sa Central Visayas.
Ang lakang sa TUCP pagpasaka sa sweldo sa mga trabahante gihimo human sa pagkasa sa presyo sa lana sa niaging mga semana nunot sa padayon nga gubat sa Russia ug Ukraine.
Ang TUCP nipadala usab og sulat ngadto kang Presidente Rodrigo Duterte pag-awhag sa Presidente nga padalion ang RTWPB nga aksyonan dayon ang giduso nga petisyon sa mga trabahante.
Sa pikas bahin, ang Alyansa sa mga Mamumuong Kontraktwal sa Sugbo (ALSA) kontrakwal-Cebu niduso og petisyon alang sa dugang P356 sa minimum wage kagahapong adlawa.
Lain-lain nga increase ang gipangayo sa ALSA kontrakwal-Cebu sa Class A Areas ilang giduso ang P346 nga increase, sa non-agricultural workers kay P356 , sa Class B areas kay P384 wage increase ug Class C areas kay P394. Ang ALSA Kontrakwal-Cebu nga gipangulohan ni Lorenzo Gelbero nitug-an nga panahon na aron pun-an ang suholan tungod sa grabeng krisis karon.— Rowena Capistrano/IBM (BANATNEWS)