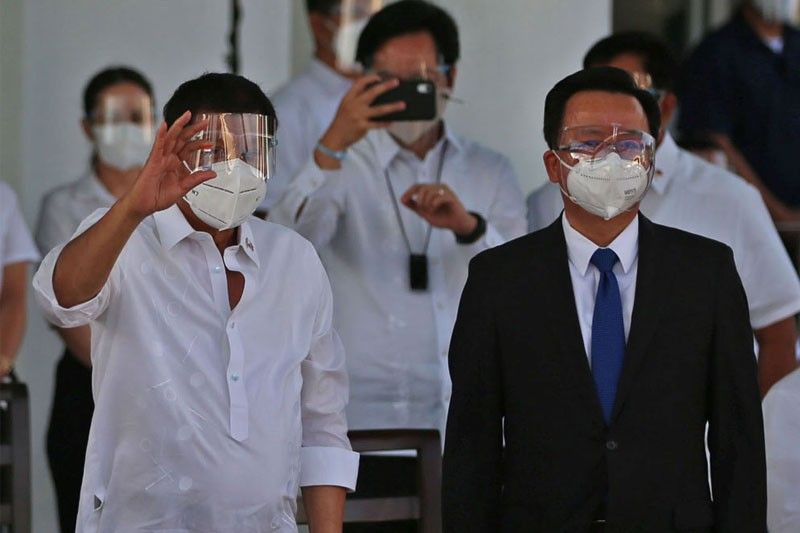 Si Presidente Rodrigo Duterte ug Chinese ambassador Huang Xialian, Health Secretary Francisco Duque ug vaccine czar Carlito Calves nisugat gipadalang donasyong Sinovac vaccine gikan sa China kagahapong adlawa diha sa Villamor Airbase sa Pasay City.
Jesse Bustos
Bakuna gikan China naabot na
CEBU, Philippines — Nangabot na kagahapon sa hapon sa Villamor Air Base sa Pasay City ang unang hugna sa Sinovac gikan sa China nga mismo si Pres. Rodrigo Duterte maoy nangulo sa pagdawat niini gikan sa mga representante sa gobiyerno sa China ug sa Sinovac Biotech LTD.
Ang maong mga 600 mil ka doses sa bakuna giingong donasyon gikan sa People's Republic of China. Moabot sa 300 mil ka tawo ang mamahimong mabakunahan niini sanglit tagduha ka doses ang gikinahanglan kada tawo.
Ang Sinovac maoy ikatulo nga bakuna nga nahatagan og Emergency Use Authority (EUA) sa Food and Drugs Administration apan mao kini ang kinaunahang nakapadala og donasyon sa Pilipinas.
"We welcome this day with hopes of finally ending the Covid 19 pandemic in our country.Today we made another step in the ongoing fight against Covid 19 as we receive 600,000 Coronavac from the People's Republic of China. I convey my sincere gratitude to the Chinese people and the government of China for this gesture of friendship and solidarity, a hallmark of Philippine-China partnership," ingon ni Presidente Duterte.
Gikan sa Villamor Airbase, ang unom ka 40-footer trucks nga gisudlan sa maong mga bakuna diretso kining gidala ngadto sa cold chain facility nga mao ang Philippine General Hospital ug Metropac Logistics sa Marikina City matud pa sa National Task Force.
Sa laing bahin, ang Convenor Body sa kagamhanan sa Syudad sa Cebu adunay tulo ka mga brand sa bakuna nga gikunsidera sa pagkakaron kini mao ang Novavax / Covovax, AstraZenica ug Sinovac.
Pareho ang Sinovac ug AstraZenica nga adunay EUA gikan sa FDA samtang ang Novavax nagung-ong pa ang aplikasyon og EUA.
Ang Novavax ug AstraSenica maoy gisugyot sa vaccine czar, Sec. Carlito Galvez sa iyang pakighinabi kang Cebu City Michael Rama.
Ang Sinovac, usa sa mga brand sa bakuna nga apil sa national government vaccine rollout.
Una ng nahatagan og EUA sa FDA ang Pfizer-BioNtech apan wala kini pilia sa Cebu City tungod kay nagkinahanglan kini og ultracold storage sama sab sa Moderna vaccine.
Si Konsehal Raymond Garcia ug Alvin Dizon misugyot nga maayong ikunsiderar gihapon ang ubang mga brand tungod kay daghan ang gikinahanglan apan limitado ang supply. IBM (BANATNEWS)