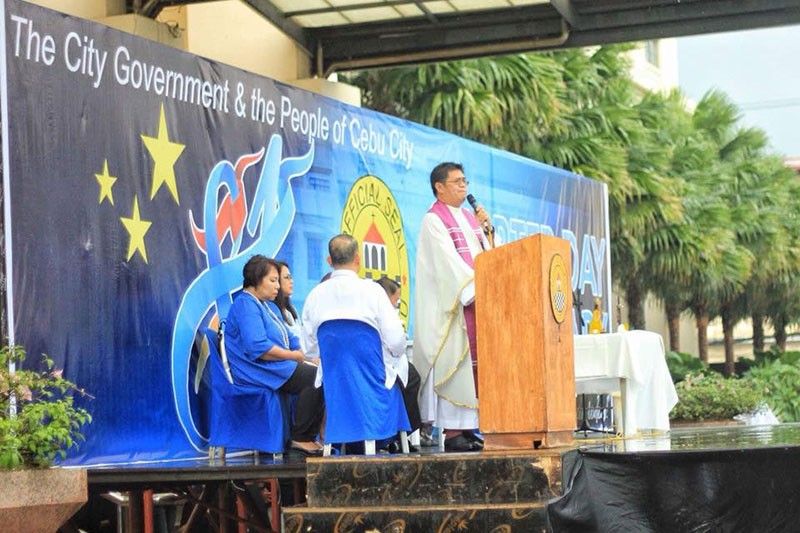 Ang virtual celebration makita sa facebook ni Mayor Edgardo Labella ug sa Cebu City Public Information Office.
STAR/File
Kalihokan sa 84th charter day sa Cebu City ipaagi sa virtual
CEBU, Philippines — Gisaulog karon sa Dakbayan sa Sugbo ang ika-84th Charter Day apan gumikan sa COVID-19 pandemic ang mga kalihokan sa maong selebrasyon ipaagi kini sa online.
Ang virtual celebration makita sa facebook ni Mayor Edgardo Labella ug sa Cebu City Public Information Office.
Si Labella nagkanayon nga gumikan sa COVID-19 pandemic dako og kalahian ang mga kalihokan karon itandi sa mga nanglabay nga katuigan.
Atol sa virtual celebration ipahibawo ni Labella ngadto sa mga Sugboanon ang kalamposan sa siyudad ingon man ang mga nagpadayon nga kalamboan.
Hatagan usab og pasidungog sa siyudad ang 11 ka institutions ug 20 ka indibidwal gumikan sa ilang mga natampo sa pakigbatok sa COVID-19.
Ang mga corporations/foundations nga special awardees sa 84th charter day gilangkuban sa Christina Lee Dino Foundation, Philippine Spring Water Resources, Inc. (PSWRI), Bigfoot Studios, Cebu-Cordova Link Expressway Corporation (CCLEC), SM Foundation, Inc., Cebu Holdings, Inc., Metro Pacific Tollways Corporation, Marino Partylist, Gokongwei Brothers Foundation, Jaime Ongpin Foundation ug Aboitiz Group of Companies.
Samtang ang mga indibidwal nga makadawat og pasidungog gikan mao sila si Lieutenant General Roberto Ancan , Raquel Arce, Dr. Gerardo Aquino Jr., Dr. Jaime Bernadas , Engineer Lowell Corminal, Retired Major General Melquiades Feliciano, Police General Albert Ignatius Ferro, Councilor Joel Garganera, Councilor Donaldo "Dondon" Hontiveros, Police Colonel Josefino Ligan, Dr. Bryan Albert Lim, Dr. Michelle Linsalata, Edmund Liu , Dr. Mary Jean Loreche, Grace Luardo, Atty. Mary Rose Lubino, Engineer Editha Peros, Atty. Jocelyn Pesquera, Councilor David "Dave" Tumulak ug Councilor Phillip Zafra.
Ang outstanding department small category mao ang office of the city accountant, samtang sa big category mao ang Cebu City Medical Center.
Napili sab isip outstanding department head big category si Yvonne Cania ug sa small category mao si Jerome Ornopia, CPA.
Karong alas 8:00 sa buntag usa usab ka mubong kalihokan ang ipahigayon diha sa Plaza sa Sugbo diin sila si Labella ug Vice Mayor Michael Rama mohatag sa ilang charter day message.
Ang kalihokan taposon sa usa ka wreath-laying ceremony sa monyomento ni Don Vicente Rama, Father of Cebu City Charter. BDB (BANATNEWS)