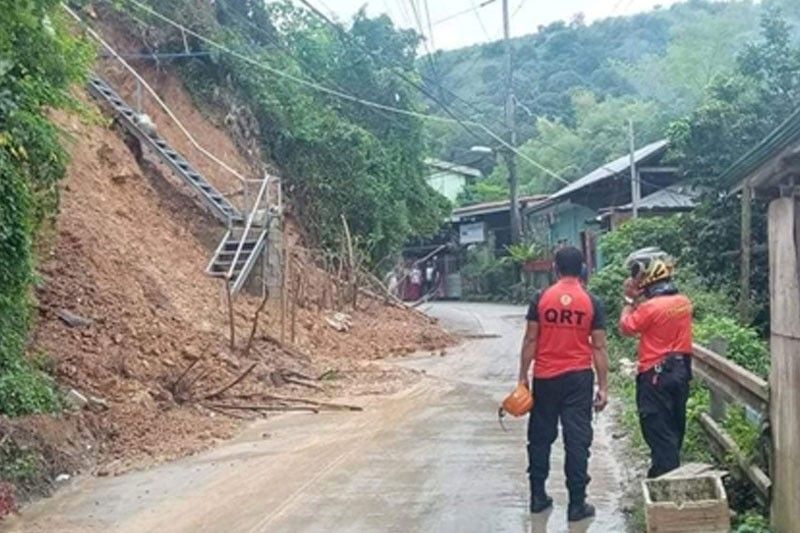 Ang lugar sa Barangay Sapangdaku sa Dakbayan sa Sugbo diin nakasinate og pagdahili sa yuta. Ang Cebu City Disaster Risk Reduction and Management Office CCDRRMO miingon nga dunay usa ka panimay ang naapektuhan sa landslide.
Hinatag nga hulagway gikan sa CCDRRMO.
Pagdahili sa yuta sa Brgy Sapangdaku ipasusi sa MGB
CEBU, Philippines — Mipadala og request ang City Disaster Risk Reduction Management Office (CCDRMO) ngadto sa Mines and Geosciences Bureau (MGB) aron ipasusi ang yuta sa pipila ka bahin sa Sitio Cabarang , Barangay Sapangdaku, Dakbayan sa Sugbo gumikan sa makaalarma nga istado niini nga magsige og dahili ang yuta.
Suma pa sa officer-in-charge sa CCDRMO nga si Ramil Ayuman nga hingpit ang ilang pagmonitor karon sa maong area ilabi na nga nidahili na usab ang yuta niini kagahapon sa buntag.
Wala hinuoy nasamdan sa maong hitabo apan makahatag kini og peligro sa mga motorista sanglit doul raman sa karsada ang pagdahili sa yuta.
Kahinumduman pipila ka higayon na usab nga midahili ang yuta sa maong dapit niadtong miaging tuig.
"Makapaalarma gyud ang maong sitwasyon busa importante gyud nga masusi kini sa mga geologist. Mohimo usab kita og koordinasyon sa mga opisyales sa maong dapit," suma pa ni Ayuman.
Gawas sa CCDRRMO, nipadala usab ang siyudad og mga personnel sa city engineering`s office alang sa clearing operations ug gi-kordon na usab ang maong area.
Nasayran nga kanunay nga nakaalerto CCDRRMO gumikan sa nag- sagunson nga mga pag-ulan ug nagmugna og kadaut sa pipila ka mga dapit sa siyudad.
Gitambagan ni Ayuman ang nga nagpuyo sa bakilid ug kadtong nagpuyo dapit sa sapa nga magmabinantayon kanunay ug mobakwit dayon sa higayon nga maapiki og mamelegro na ang ilang kahimtang. – MEL (BANATNEWS)