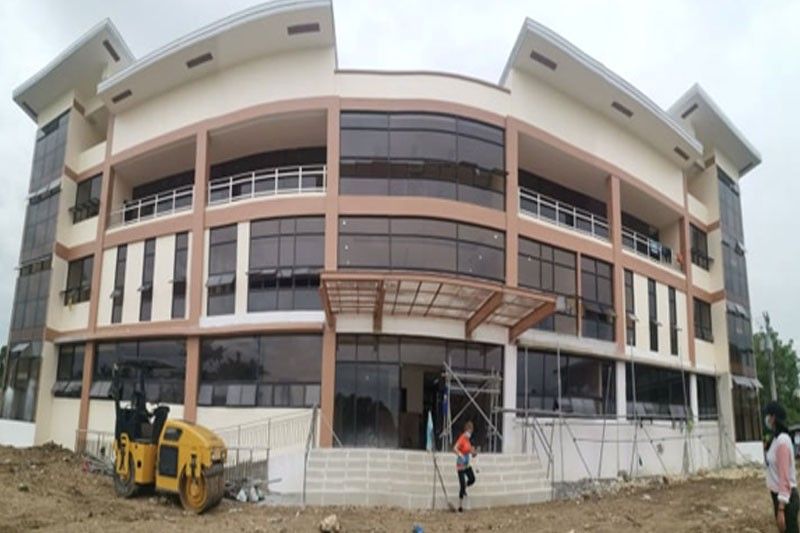 Bag-ong administration building sa Lapu-lapu City College.
Romeo Limpangog
Lapu-lapu City College nakabaton og bag-ong building
CEBU, Philippines — Mokabat sa P 41.3 milyones pesos ang gasto sa bag-ong gitukod nga administration building sa Lapu-Lapu City College nga hapit na mahuman.
Ang tulo ka andana nga building gitukod pinaagi sa Department of Public Works and Highways (DPWH) sa ulohan nga buhatan ubos sa koordinasyon sa buhatan ni Kongresista Paz Radaza.
Ang edipisyo maoy himoong opisina sa mga nagduma sa tunghaan ug atol sa pagbisita ni Kongresista Radaza niadtong miaging adlaw nasuta nga hapit na kini mahuman ug gitakda na kini nga inagurahan.
"Lipay kaayo ko kay pagbisita nako nindot og design ang DPWH sa mao nga building, pang modern kaayo ang dating sa building", pamahayag ni Radaza.
Kahinumduman nga sa panahon ni Radaza sa mayor pa siya sa maong dakbayan napatukod usab ang State-Of-the Art Hospitality Management Building nga dunay tulo ka andana nga maoy gigamit nga classroom sa mga nagtungha og hotel and resorts nga kurso.
Nasayran sa iyang termino isip kongresista sa dakbayan, gipaninguha ni Radaza nga mapun-an ang mga buildings sa City College aron mas daghan pa nga kurso ang matanyag ug daghan ang ma enganyo nga estudyante nga motungha sa City College.
"Education has always been my topmost priority. Mao nga ako gyud gipadayon ang ako ng nasugdan na nga mga proyekto sa pagpatukod og buildings alang sa City College", gidugang ni Radaza.
Ang Administration Building sa Lapu-Lapu City College usa lamang sa daghan pa nga mga buildings nga gipatukod sa kongresista pinaagi sa DPWH. —MEL (BANATNEWS)