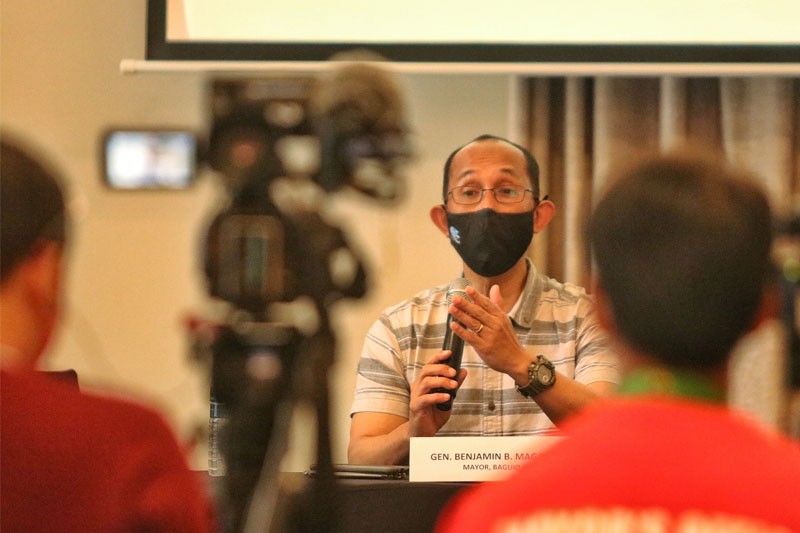 Si Baguio City Mayor Benjamin Magalong nangulo sa pagtudlo sa mga contact tracers sa Dakbayan sa Sugbo sa ilang gihimo sa pagpugong sa pagkuyanap sa COVID-19 sa Baguio ug Cordillera. —
Aldo Nelbert A. Banaynal
Magalong nipaambit sa pamaagi sa contact tracing
CEBU, Philippines — Gisugdan dayon ang duha ka adlaw nga contact tracing seminar nga gipangulohan ni Baguio City Mayor Benjamin Magalong kinsa retiradong heneral ug kanhi direktor sa Criminal Investigation and Detection Group (CIDG).
Si Magalong niabot sa Sugbo kagahapon uban ang unom ka trainor alang sa contact tracing seminar aron sa pag-abag sa Dakbayan sa Sugbo batok sa nagsaka nga kaso sa coronavirus disease.
"We are not here to change the entire system. We are not here to implement something but to enhance their capacity in contact tracing," matud ni Magalong.
Buot sab ni Magalong nga mapaambit ang ilang gihimo sa Baguio City ug silingan nga munisipyo sa Cordillera Region batok sa COVID-19. Nitambong sa training ang mga health workers, doctors, nurses ug investigators sa kapolisan ug laing mga law enforcement agencies.
Kauban ni Magalong ang mga batid sa Geographical Information System (GIS) ug link analysis.
Human sa duha ka adlaw nga training, adunay magpabilin nga trainor sulod sa duha ka semana aron pagseguro nga gigamit ang nakat-onan.
Contact tracers
Tinguha nga umolon ang 35 ka teams nga adunay tag lima ka contact tracers nga mosubay sa possible virus carriers.
Mismo si Police Regional Office 7 Director Albert Ferro maoy nihangyo sa tabang ni Magalong alang sa pagtabang sa pagsulbad sa problema sa Sugbo tungod sa kasinatian ni Magalong.
Nagkanayon si Magalong nga angayan tan-awon ang tulo ka pamaagi aron mokunhod ang kaso sa COVID-19 ilabi na sa Siyudad sa Sugbo.
Kini naglakip sa pro-active expanded testing aron madeterminar ang actual situation aron maumol ang saktong strategic decision.
Laing pamaagi mao ang paghingusog sa contact tracing capability sa siyudad ug ang responsible behavior sa mga tawo nga mosagop sa new normal, disiplina sa kaugalingon ug mosunod sa health standards sama sa pagsul-ob og facemask, social distancing ug proper hygiene.
Si Cebu City Mayor Edgardo Labella niingon nga magpadayon ang massive contact tracing bisan og moresulta kini sa pagsaka sa kaso sa COVID-19 sa siyudad.
Gihangop ni Labella ang pagtabang ni Magalong aron i-train ang contact tracer teams nga giumol sa kagamhanan sa Siyudad sa Sugbo.
Tinguha sa Siyudad sa Sugbo nga moumol og 80 ka contact tracing teams alang sa 80 ka barangay sa dakbayan. Decemay P. Padilla/GMR (BANATNEWS)