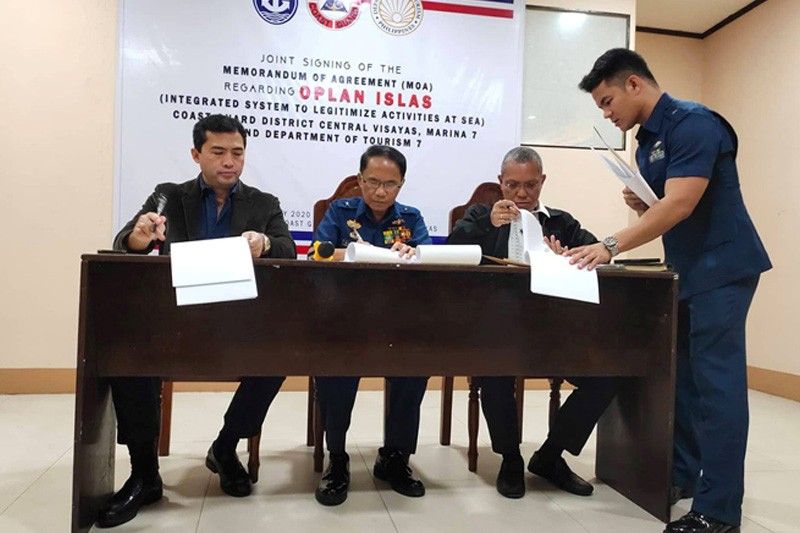 Si Shalimar Tamano direktor sa DOT-7, Comodore Joseph Badajos commander sa PCG-7 ug Engineer Marc Anthony Pascua sa direktor sa MARINA-7 nagpirmahay og MOA sa Oplan Islas.
Hulagway kuha ni Decemay P. Padilla
Mga ahensiya nigama og MOA sa Oplan Islas
CEBU, Philippines – Nagpinirmahay na ang Department of Tourism-7, Philippine Coast Guard-7 ug Maritime Industry Authority sa Oplan ISLAS o Integrated System To Legitimize Activities at Sea.
Tinguha niini ang mopahigayon og synchronized ug coordinated mobile registration sa mga motor banca ug gagmay'ng sakayan.
Gipahigayon kagahapon sa buntag ang joint signing sa memorandum of agreement (MOA) tali sa tulo ka ahensiya sa gobiyerno alang sa Oplan Islas diha sa headquarter sa Coast Guard District Central Visayas.
Kabahin kini sa padayong implementasyon ug pagpalig-on sa Intensified Community Awareness Response and Enforcement (ICARE) campaign plan.
Si PCG-7 Commander Commodore Joseph Dadajos, MARINA-7 Director Marc Anthony Pascua ug DOT-7 Director Shalimar Tamano nisilyo sa partnership nga nagtinguha pagdala sa serbisyo sa national government ngadto sa katawhan.
Naumol ang maong kalihukan sa niaging tuig aron palig-onon ang maritime safety sa Central Visayas.
Ang matag ahensiya adunay tagsa-tagsa ka tahas diin ang PCG maoy mopatuman sa safety security ug environmental numbering sa mga gagamay'ng sakayan.
Susihon usab sa MARINA-7 ang compliances sa mga barko ug uban pa ug mopahigayon usab sila og mobile registration.
Samtang ang DOT-7 mosusi usab sa safety documents ug requirements sa mga sakayan sa dagat nga gigamit alang sa tourist operation sa dili pa sila mo-certify. /BDB (BANAT NEWS)