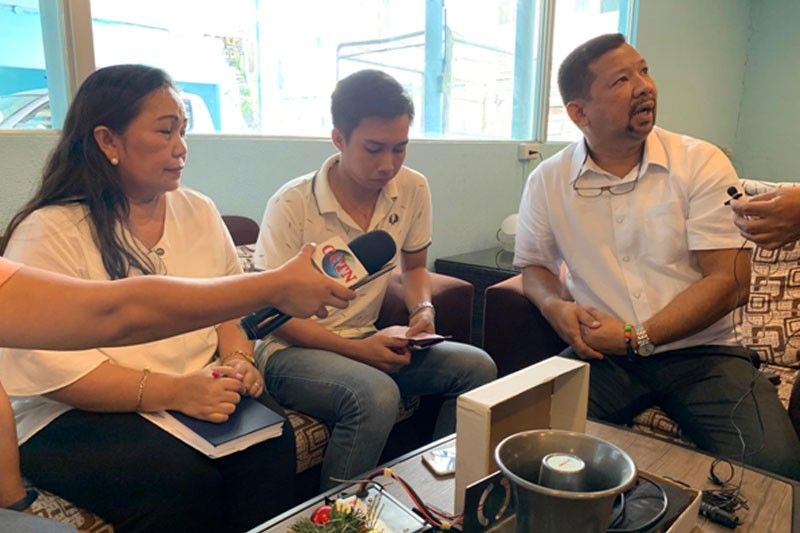 Niatubang kagahapon nilang Land Transportation Office 7 Director Victor Caindec ug Flordiliza Monceda, acting chief sa Operations Division sa LTO-7, si Judiel Niño Cane (tunga) gumikan sa iyang paggamit og wangwang sa sakyanan dungan ang pag-turnover sa ekipo.
Romeo D. Marantal
Tinun-an nagwangwang gipamulta og P8,000
CEBU, Philippines — Gipamulta sa Land Transportation Office kadtong tinun-an nga nigamit og wangwang sa sakyanan tungod kay late na sa iyang klase.
Ang tinun-an giila nga si Judiel Niño Cane kinsang video nag-viral sa social media hinungdan nga gipangita siya sa mga tinugyanan sa LTO-7.
Nitahan si Cane sa buhatan sa LTO-7 subay sab sa hangyo ngadto kaniya dungan ang pagsurender ekipo nga gibutang sa sakyanan.
Matud ni LTO-7 Director Victor Caindec nga naisyuhan na nila kini og Temporary Operator's Permit (TOP) ug gipasabot sa kalapasan nga iyang nahimo samtang gisurender ang iyang lisensiya ug rehistro sa sakyanan.
"Kami satisfied naman mi sa among gibuhat, nianhi sila voluntarily ni-subject siya sa proper nga process, giimbestigahan siya sa atong hepe so humana, para namo our concern is the driver who violated, the owner of the vehicle nga naka-register nga naa nakakabit ning illegal device so under the law ang kuan ani i-surrender ni siya in favor of the government and then they paid penalties," asoy ni Caindec.
Si Flordiliza Monceda, acting chief sa Operations Division sa LTO-7, nipasabot nga nakalapas si Cane sa Presidential Decree No. 96 o ang "unlawful use or attachment of sirens, bells, horns, whistles or similar gadgets that emit exceptionally loud or startling sounds, including domelights and other signaling or flashing devices on motor vehicles and providing certain exceptions therefore."
Ang gitugutan lang nga sakyanan nga mogamit og wangwang ang mga law enforcement agencies, fire truck ug mga ambulansiya.
Laing violation nga gikarga sa LTO-7 ngadto sa batan-on mao ang reckless driving. Mahitungod sa pagsuspenso sa lisensiya ni Cane, asoy sa ahensiya nga ang system nila ang mo-determinar kun ma-upload na ang TOP.
"Under PD 96 ang atong violation ani niya so ang iyang pagabayran ato ra sad i impose ato niya sa PD 96 niya kuan ani niya pareha sad aning ilegal nga pagbutang og accessory sa sakyanan which is P5,000 plus P1,000 so that's P6,000 and for the reckless driving for the first offense that's P2,000 so more or less iyang mabayran P8000. Mao na siya ato pang ikuan pag-encode nato sa system mogawas dayon nato ang kung naa siya'y suspension ana, kung naay accessory penalty mogawas," matud ni Monceda.
Si Cane sa iyang bahin nipasabot nganong nahuimo niya ang kalapasan.
"Tungod sa akong pagka curiosity like kaning mga batan-on lagi kuryuso kaayo ana nada ra sa ingon mao rato. Lesson learned sad to nako nga di to maayo akong gibuhat kani laging kuryuso kay ta. Kani laging moapilay og show, tungod sa kabatan-on ba hilig sad og modified," pasabot ni Cane.
Wala na modetalye si Cane kung kinsa ang iya mga kuyog sa sakyanan.
Si Caindec niawhag sa mga batan-on ilabi na kadtong hilig mo-modify sa ilang mga sakyanan nga sa pagbuhat niini hinumduman kanunay ang mga balaud. GMR (BANATNEWS)