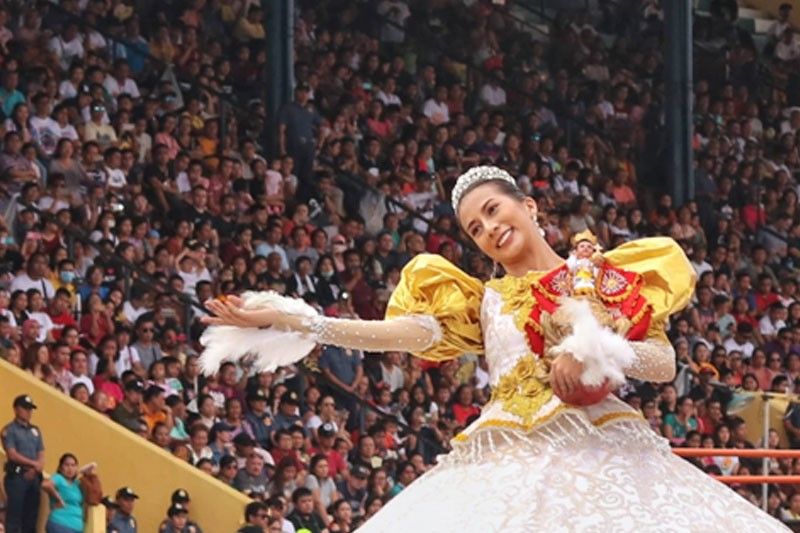 Ang festival queen sa Sinanduloy Cultural Troupe nipakita gihapon sa maayo niyang pagsayaw atubangan sa mga maman-away sa subli nilang pagsayaw kagahapon sa Cebu City Sports Center atol sa awarding ceremony diin nakuha nila ang grand prize nga P1-million sa Sinulog-base category sa bag-ohay pa lang nahuman nga Sinulog 2020.
Aldo Nelbert A. Banaynal
Tag P1 milyon sa Tangub, Basakanon
CEBU, Philippines — Human nipahuway og duha ka tuig, naangkon na sab sa Sinanduloy Cultural Troupe sa Tangub City ang kampyonato sa Sinulog 2020 Grand Parade ubos sa Sinulog-based category sa grand ritual showdown karong tuiga.
Ang sayaw sa Sinanduloy nakapa "wow" sa mga nanan-aw sa Cebu City Sports Center pinaagi sa ilang dungan kaayo nga sayaw inubanan sa ilang simple apan nindot nga pula nga costume.
Ang Sinanduloy Cultural Troupe nakadawat og P1-million samtang nahimutang sa 2nd place sa ritual showdown ang City of Carcar nga nakadawat og P700,000; 3rd and Talisay City Central School ug Talisay City National High School (P500,000); ikaupat ang Kulturang Panglaoanon (P300,000); 5th place ang Pakol Festival (P200,000); 6th place ang Tribu Bogohanon (P150,000) ug 7th place ang Banauan Cultural Group (P100,000).
Sa Free Interpretation category, naangkon pagbalik sa Lumad Basakanon sa Barangay Basak San Nicolas, Siyudad sa Sugbo ang kampyonato sa ritual showdown.
Ang sayaw sa Lumad Basakanon niadtong Enero 19 nagpamatuod nga world class ang ilang performance diin nakadawat sila og daghang pakpak gikan sa mga nisaksi tungod sa kapaspas apan dungan nga lihok sa mga kamot, tiil ug lawas sa mga performers.
Ang Lumad Basakanon nakadawat og P1-million; 2nd place ang Pundok Masadyaon (P700,000); 3rd place ang La Castallena Bailes de Luces (P500,000); 4th place ang Tribu Pintaflores (P300,000); 5th place ang Lapu-Lapu City (P200,000) ug 6th place ang Tribu Rayhak (P150,000).
Ang Lumad Basakanon ang nakadaug sa best in costume sa Free Interpretation (P100,000).
Samtang ang Pakol Festival sa Santa Catalina, Negros Oriental usab ang best in costume sa Sinulog-based category.
Sa best in musicality Sinulog-based category, 5th ang Sta. Catalina (P10,000); 4th and Carcar City (P20,000); 3rd ang Talisay City, Cebu (P30,000); 2nd ang Panglao (P50,000) ug 1st ang Tangub City (P100,000).
Ang tanang winners sa Sinulog 2020 gihatagan sa premyo atol sa ilang repeat performance ug awarding ceremony kagahapon sa CCSC nga gipangulohan ni Mayor Edgardo Labella. GMR (BANATNEWS)