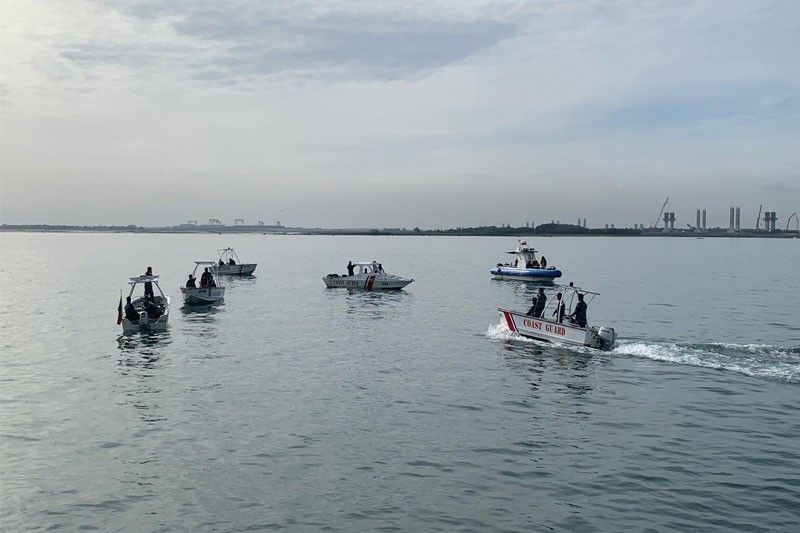 Gisuhid na sa mga tinugyanan sa Philippine Coast Guard 7 ang Mactan Channel atol sa dry-run kagahapon sa pagpangandam sa fluvial procession karong Sabado sa buntag.
Romeo D. Marantal
Registration sa fluvial karong adlawa nalang
CEBU, Philippines — Karong adlawa na ang deadline sa pagrehistro sa mga sakyanan sa kadagatan nga gustong mouban sa fluvial procession karong Sabado.
Mokabat na sa 50 ka motorbanca ug barko ang nakaparehistro na sa buhatan sa Philippine Coast Guard 7.
"Unang-una sa lahat mag-seek sila yung 3 gross tonnage and above humingi ng certificate sa MARINA yung special permit to operate yung SPO nila para isa sa mga requirements naming sa Coast Guard for them to be part nung Sinulog fluvial procession is yung mga safety certificates coming from Manila," matud sa tigpamaba sa PCG-7, Lt. JG Encina. Sa niaging tuig niabot sa 90 ang nagparehistro sa ug niapil sa kalihukan.
Sa tinguha nga hapsay, malinawon ug malampuson ang fluvial procession, usa ka dry-run ang gipahigayon sa Basilica Minore del Sto. Niño ingon man ang ubang ahensiya sa gobiyerno nga may labot sa kalihukan sa kapistahan sa Balaang Bata nga si Sr. Sto. Niño kagahapon.
Matud ni Encina nga ang lead vessel nga MRRV 4404 kon BRP Capones mao ang sundon sa fluvial procession.
Sa maong dry-run, usa sa ilang gitan-aw ang oras nga kinahanglan matuman diin gihatagan sila og duha ka oras aron makaabot sa Pier 1 ug mapakanaug ang imahen ni Sr. Sto. Niño ingon man sa Birhen sa Guadalupe aron dad-on sa Basilica.
Si Rev. Fr. Pacifico Nohara Jr., rector sa Basilica Minore del Sto. Niño, nipasabot nga ang maong dry-run makatabang aron magmalampuson ang pagahimoon nga fluvial procession.
Ang barko LCT Teofilo Camomot nga iya sa Mandaue Shipping and Lighterage Inc. ang gamiton isip galleon kun diin isakay ang imahen sa Balaang Bata ug Birhen sa Guadalupe.
Niuban sab sa dry-run si Police Regional Office-7 Director, Police Brigadier General Val De Leon aron motan-aw sa kaandam sa Coast Guard ug aron sab makita kun unsa pay kuwang ug angayan nga palambuon.
Human sa dry-run, si Commander Rodolfo Dela Peña Jr., Deputy Commander sa Coast District Central Visayas ug acting station commander sa Cebu, niasoy nga ang travel time gikan sa Captain Veloso Pier paingon sa Pier 1 naa lang sa 59 minutos.
Giingong paspas ra kini hinundgan nga plano nila nga sa adlaw na gyud sa fluvial procession paubsan ang kapaspason aron makuha nila ang duha ka oras nga gigahin sa kalihukan. /GMR (BANATNEWS)