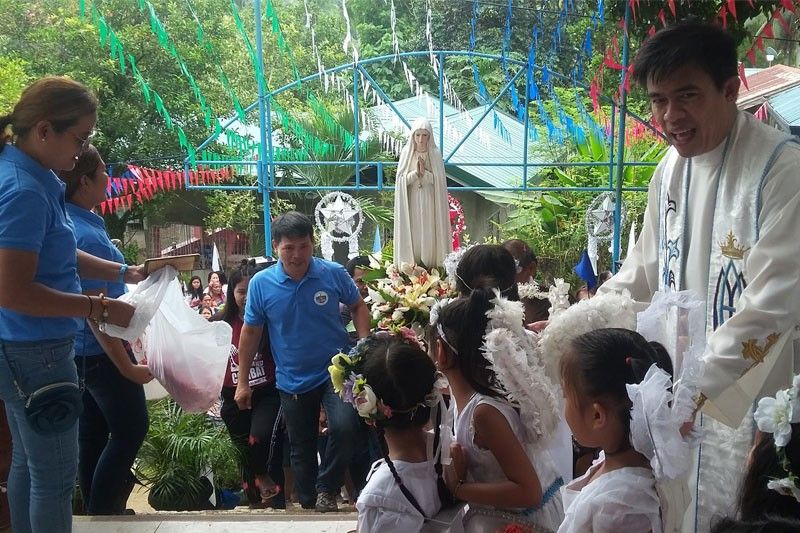 Gihangop … Ang mga deboto sa Birhen Maria nisugat sa Centennial Pilgrim Image sa Birhen sa Fatima nga gidala sa Minglanilla niadtong Sabado.
Rowena Capistrano
Centennial Pilgrim Image sa Birhen gidala sa Minglanilla
CEBU, Philippines — Bisan sa pagbunok sa ulan, wala natarug ang mga parukyano sa Parroquia de Virgen Delos Remedios sa Guindarohan sa Lungsod sa Minglanilla sa pagdawat sa Centennial Pilgrim Image sa Our lady of Fatima niadtong Sabado.Kini subay sa 1st Saturday Marian Devotion nga gipangulohan ni Fr. Moenil Lapa ang kura paruko sa lungsod.
Matud pa ni Lapa, gisugdan nila ang 1st Saturday devotion niadtong buwan sa Oktobre ug mapasalamaton sila nga giduaw sa Mahal nga Birhen sa Fatima ang ilang parokya usa ka adlaw sa dili pa ang solemnity sa Immaculate Concepcion kagahapong adlawa (Domingo).
Sumala pa ni Lapa mapasabot na gayud ngadto sa katawhan kun unsa ang 1st Saturday Devotion. Matud niya ang aurora dili ra kutob sa kadlawon
Si lapa nitug-an ang pag debosyon sa Mahal nga Birhen magdala sa katawhan ngadto kang Kristo.
Mapasalamaton usab si Lapa sa mga tawo nga niapil sa kalihukan ug nitug-an nga ang presensya sa imahen maghikap sa kasingkasing sa katawhan sa pagtabang sa ilang parukya. Maoy pangandoy ni Lapa ang usa ka buhi nga simbahan nga balay alampoanan sa tanan.
Samtang si Reynald Andales, maoy international board of trustees sa Centennial Images sa Birhen sa Fatima nitug-an nga ilang gidala ang imahen tungod kay nag-promote usab sila sa 1st Saturday Monthly Devotion ug ipasabot usab kun unsa kini ngadto sa katawhan.
Gitug-an ni Andales sila sa World Apostolate of Fatima maoy gitahasan sa Catholic Bishop Conference of the Philippines nga mopasabot kabahin niini ngadto sa mga parukya.
Ang centennial images sa Our Lady of Fatima mopuyo sa parukya sa Guindarohan hangtod Disyembre 14.
Si Andales nitug-an nga anaa na sa kura paruko unsa ang buhaton nila sa mga adlaw nga mag stay sa parukya ang imahen. /IBM (BANATNEWS)