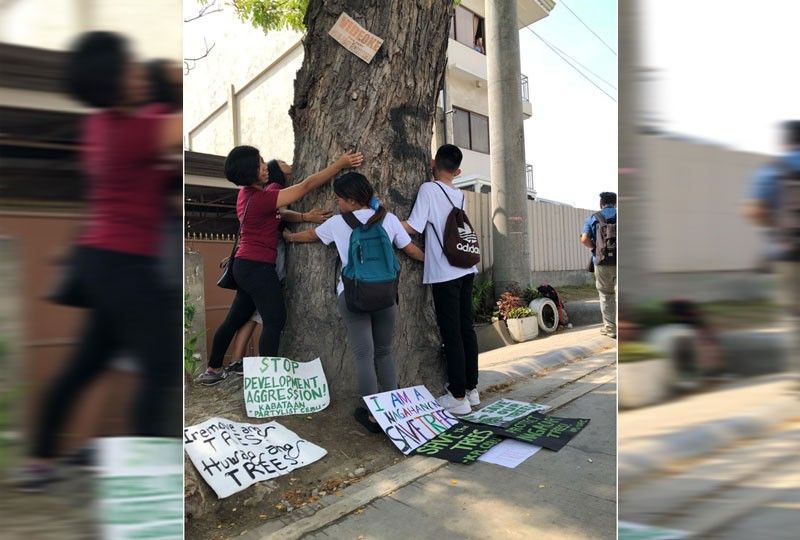 Gigakos niining kabataan ang dakung punoan sa kahoy isip pagpakita sa ilang hugot nga pagsupak sa plano nga pagpamutol sa mga kahoy nga maagian sa pagpalapad sa karsada Dakbayan sa Naga, San Fernando ug Carcar.
Tampo nga hulagway
Pagpamutol sa kahoy gisupak sa Kabataan
CEBU, Philippines — Bitbit ang mga placards, gisinggit sa Kabataan Partylist ug ubang caused-oriented groups ang ilang pagsupak sa pagpamutol sa kahoy sa Naga, San Fernando ug Carcar alang sa road widening sa Department of Public Works and Highways.
Sa gawas sa buhatan sa Department of Environment and Natural Resources 7, usa ka lihok protesta ang gihimo aron madungog ang ilang mga sentimento ingon man kabalaka sa pagpamutol sa mga kahoy.
Si Bern Cañete, spokesperson sa Kabataan Partylist-Cebu, niasoy nga ang ilang pagpadayag usa kini ka panawagan nga dili pamutlon ang mga kahoy sa maong lugar kay makita nga importante ang kalikupan sa katawhan tungod sa mga benepisyo nga mahatag niini.
"Unta mao ni ang masabtan karon sa DENR nga ang atong panawagan kay dili ra siya sa pipila lamang, ang atong gipangayo nga development kay development para sa kaayuhan sa tanan, kung atong makita porma ni siya sa development aggression," asoy ni Cañete. Subay niini, ang tigpamaba sa DENR-7 nga si Maricita Cabasa nipasabot nga ang DENR nagsunod lang sa Administrative Order 2018-16 nga gipirmahan ni Secretary Roy Cimatu niadtong Hulyo 18, 2018 nga nagmando sa tanang Community Environment and Natural Resources Offices sa paghatag dayon og aksyon sa tanang application sa removal ug relocation sa mga kahoy alang sa construction sa road, bridges, flood control ug ubang government infrastructure projects sa DPWH.
Si Cabasa niingon nga katungod sa kabataan ang pagpadayag sa ilang opinyon maong ang ilang assistant regional director nakig-atubang gyud sa kabataan aron pagtuki sa ilang yangungo.
Sigun sab ni Cabasa nga kadtong gipanawagan sa grupo nga mga kahoy nga dili pamutlon nag-ocular inspection ang DENR CENRO Argao ug gitan-aw nila ang mga kahoy ug ang DPWH ni-submit sab og infrastructure plan ug nipasalig nga matag kahoy nga pamutlon ilang ilisan diin pasabot niini nga magtanom og mga bag-ong kahoy.
"Kung mahimo padayon tag tanom og kahoy para pag-ilis atong giputol kay tungod lagi sa development, dili man gyud mahimo dili ta magpalapad sa atong dalan usa na sa atoang tan-awon nga dili ta pwedeng magpabilin sa kaniadto nga okay ra nato nga duha ra kasakyanan ang magsugat dili na gyud nato kapugngan," matud ni Cabasa. GMR (BANAT NEWS)