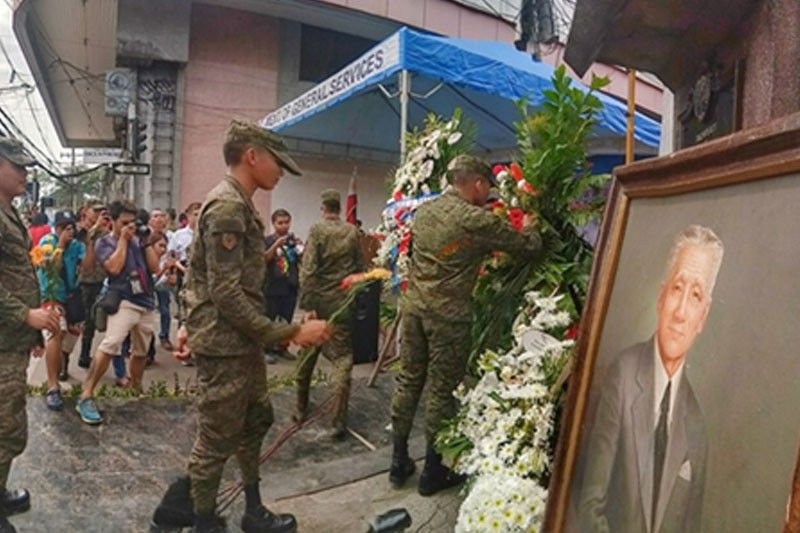 Mga sakop sa Osmeña clan, kasundalohan, kapolisan opisyales ug kawani sa city hall ug ubang katawhan ang nihalad og buwak diha sa marker ni kanhi presidente Don Sergio Osmeña, Sr. atol sa iyahang ika-141st nga birth anniversary kagahapon.
Aldo Nelbert Banaynal
Mga kawani nitambong sa Osmeña Day tungod sa attendance?
CEBU, Philippines — Gisaulog kagahapon sa kagamhanan sa Siyudad sa Sugbo ang ika-141st birth anniversary ni Don Sergio Osmeña, Sr.
Ang kalihukan gipahigayon diha sa nahimutangan sa birth marker niini sa eskina Osmeña Boulevard ug dalan Lapu-Lapu, Siyudad sa Sugbo diin gisugdan kini og Santos nga Misa nga gipangulohan ni Reverend Father Erik Orio.
Nitambong sa maong kalihukan ang Osmeña clan, empleyado sa Cebu City Hall, acting mayor Michael Rama, pipila ka konsehal, kapolisan, kasundalohan ug ubang organisasyon.
Lakip sa nitambong sa kalihukan si kanhi mayor Tomas Osmeña uban sa iyang anak ug apo.
Sa iyang mensahe, si Rama nipadayag nga nalipay siya nga si Osmeña nitambong sa kalihukan.
Si Rama nasagmuyo tungod kay iyang nabantayan nga giingong ang mga empleyado sa city hall nitambong sa kalihukan tungod lang sa attendance. "Celebration like this should be awaited, celebration like this should be prepared for there is no one like Don Sergio what pride we have now, what celebration should it be but some of you came for attendance only, I feel so sad but I'm happy former mayor Tommy Osmeña took time to be here", ni Rama pa. Si Rogelio Osmeña, Jr. maoy nihatag og mensahe sa habig sa Osmeña clan diin gisaysay niini ang mga nahimo ni Don Sergio Osmeña, Sr. sa nasud. Human niini, gisunod dayon ang flower offering nga gipangulohan sa Osmeña clan.
Si Don Sergio Osmeña, Sr. natawo niadtong Septiyembre 9, 1876 ug nahimo kining ikaupat nga presidente sa Pilipinas; second president sa Commonwealth of the Philippines; kanhi gobernador sa Sugbo; kanhi kongresista ug senador. (BDB) (BANATNEWS)