Opisina ni Radaza gikandaduhan
August 14, 2019 | 12:00am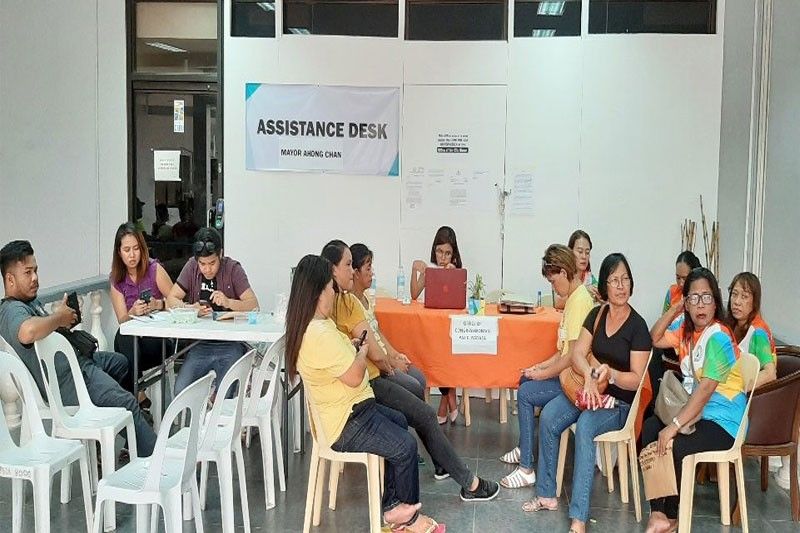 CEBU, Philippines — Hingpit na gyud nga gikandaduhan niadtong Martes ang district office ni Kongresista Paz Radaza nga nahimutang sa Lapu-Lapu City Hall.
Kini ang nakaaghat sa mga personnel ni Radaza sa pagbutang na lang og lamesa sa atubangan sa pultahan nga nagsilbing assistance desk.
Ang buhatan sa kongresista ang gikandaduhan subay usab sa kamanduan ni Mayor Junard "Ahong" Chan human usab sa ikaduhang higayon niya nga pagpadala og notice to vacate niadtong niaging adlaw.
Gihimo ni Chan ang unang pagpadala og notice to vacate ngadto kang Radaza sa pag-asumer niini sa katungdanan isip mayor sa dakbayan niadtong Hulyo 1.
Gibutyag ni City Legal Officer James Allan Sayson ngadto sa mga tigbalita nga ang pag-padlocked sa buhatan sa kongresista ang gipahigayon niadto pang niaging Domingo, Agosto 11, atol nga linga kaayo ang mga Oponganon sa gipahigayon nga Ironman 70.3 Philippines.
Matud ni Sayson nga igo lang nilang gipatuman ang panahum sa Department of Interior and Local Government (DILG) nga nag-ingon nga ang mayor sa dakbayan maoy adunay katungod sa paggahin og mga buhatan sa ubang ahensiya sa gobiyerno sa City Hall.
Gitataw ni Sayson nga kun tinguha man sa mga personnel sa kongresista sa pagkuha sa ilang mga dokumento ug mga butang nga anaa sa sulod sa gikandaduhang buhatan, mahimo kaayo nila ang pagsulod apan kinahanglan nga mananghid sila sa buhatan sa mayor.
Sa iyang pamahayag si Radaza niawhag ngadto sa iyang mga personnel sa pagpadayon sa ilang mga gimbuhaton taliwala sa ilang nadawat nga ikaduhang sulat nga nag-awhag sa pagbiya sa maong lawak sa City Hall nga gihimo niining district office. (Romeo T. Limpangog/GMR)
Comelec mag-off-site registration
Tungod sa kagamay sa mga nagparehistro sa kalungsuran, ang Commission on Elections magpahigayon og off-site registration.
Tinguha niini nga madani sa pagparehistro ang kabataan sa probinsiya nga nag-edad sa 15-anyos pataas labi na sa mga kabataan nga nagtungha sa senior high school, mga batang mag-edad og 15-anyos sa adlaw sa eleksyon sa Sanguniang Kabataan.
Gitataw ni Provincial Election Supervisor, Atty. Lionel Marco Castillano, nga usa sa mga nag-unang rason nganong dili makaparehistro ang kabataan kay kini kasagaran sa mga nagpuyo sa siyudad botante sa probinsiya.
Nasayran sa Comelec nga bisan sa adlawng Sabado dili moabot sa 300 ka batan-on ang magparehistro.
"Kasagaran man gud sa mga kabatan-onan diri sa city botante sa mga probinsiya maong mag off-site ta," matud ni Castillano.
Lakip na usab sa ilang off-site registration ang pag-edukar sa mga estudyante aron tudloan unsaon sa pagbotar ug pagparehistro.
Dugang pa niya nga daku kaayo ang papel sa mga principals aron mahimong epektibo ang maong kalihukan.
Ila usab giawhag ang mga persons with disability (PWD), senior citizens, kabatan-onan nga moapil ingon man ang kababayen-an.
Abli ang buhatan sa Comelec gikansa Lunes hangtud Sabado ug mga holidays. (/GMR)(BANATNEWS)