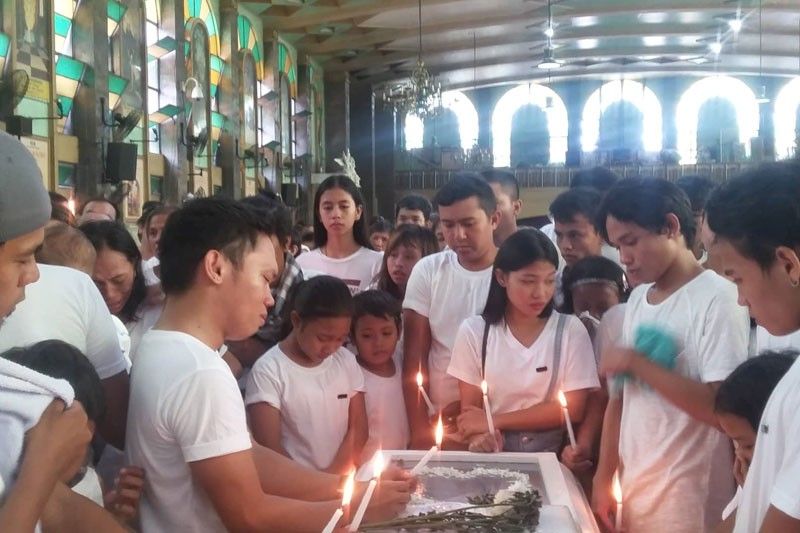 Gisud-ong sa katapusang higayon niining kabanay sa usa sa mga nakalas sa trahedya sa kadagatan sa Guimaras nga taga Ermita, Dakbayan sa Sugbo human sa Santos nga Misa sa Our Lady of Mt. Carmel Parish sa University of San Jose-Recoletos sa wala pa ilubong kagahapon.
Rowena D. Capistrano
Mga nakalas sa trahedya sa Guimaras gilubong na
CEBU, Philippines — Hingpit na nga gipanghatod sa ilang kapahulayang dayon ang pito ka taga Barangay Ermita, Siyudad sa Sugbo nga nakalas sa pagkalunod sa bangka gikan namalaye sa Guimaras niadtong Agosto 3.
Ang pito nga nakalas gidala una sa Our Lady of Mt. Carmel Parish sa University of San Jose-Recoletos alang sa tingub nga Santos nga Misa.
Matud ni Fr. Nelson Plohimon, OAR, atol sa iyang wali nga dili mapangutana ang Ginoo may kalabutan sa panghitabo tungod kay kini makagagahum ug tag-iya sa tanan ug aduna usab kini plano.
Sumala pa ni Plohimon nga ang kinabuhi sa tawo huwam lang kini gikan sa Dios ug lumalabay lang ang tanan niining kalibutan.
Si Plohimon nitug-an nga ang puluy-anan nga walay katapusan anaa sa langit diin ang pagkuha sa mga nakalas subay sa plano sa Ginoo apan sakit lang pamalandungon kay aduna kini sila mga pamilya nga nagmahal kanila.
Si Plohimon nitug-an nga kung dili pa gyud panahon sa tawo nga kuhaon ang iyang hinulaman nga kinabuhi dili pa gyud kini mamatay.
Bagang duot sa katawhan ang nihugop sa simbahan alang sa pagtambong sa katapusang misa sa dili pa ihatud sa ilang kapahulayang dayon sila si Bernardo Janson, Jared Janson, Romeo Baguio Sr., Angelina Baguio, Romnel Baguio, Danilyn Baguio, ug Danielle Baguio sa Santo Rosario-Carreta Cemetery.
Lakip sa nitambong sa misa mao sila si Mayor Edgardo Labella, Bise Mayor Michael Rama ug mga opisyal sa Barangay Ermita nga gipangulohan ni Kapitan Mark Rizaldy Miral.
Si Romhel Baguio nitug-an nga bisan sakit sa ilang kaugalingon ang kamatayon sa iyang mga ginikanan, igsuon ug pag-umangkon, wala siyay mabasol kay trahedya man apan mapasalamaton gihapon siya tungod kay aduna may daghang nitabang kanila lakip ang kagamhanan sa dakbayan ug barangay.
Nasayud siya nga sa hinay-hinay madawat ra niya ang maong panghitabo.
Gitug-an ni Baguio nga ang iyang manghud nga si Romeo Baguio Jr. ug anak niini nga si Jay Arvien Baguio ihatud sa kapahulayang dayon karong Agosto 24.
Si Marcialisa Janson kinsa namatyan og bana lakip ang kamanghuran nga anak niini ang wala kapugong sa pagpaguwa sa iyang emosyon ug nitug-an nga hinay-hinay pa siyang nahigmata sa panghitabo.
Dugang pa ni Janson nga ning pagkawala sa iyang bana ug anak iyang ipasalig nga maningkamot aron mabuhi niya ang pito pa niya ka mga bata.
Malaumon si Marcialisa nga masulod sa scholar ang iyang anak nga nagtungha sa kolehiyo. (BANAT NEWS)